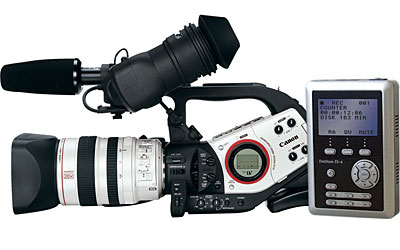 Canon has become a distributor of the FireStore FS-4 DTE digital video-disk recorder from Focus Enhancements.
A companion for Canon prosumer camcorders, the FS-4 recorder enables DV streams to be recorded to the unit with or without a MiniDV tape inserted. Footage is recorded as edit ready files that can be imported and used immediately by most DV based non-linear editing systems, saving time, and providing a backup. The FS-4 recorder will be available in a 40GB (approximately 3 hours) model, While the FS-4 Pro recorder, which offers more advanced features will be available in 40GB and 80GB (approximately 6 hours) configurations.
"One of our main objectives for users of Canon's prosumer camcorders such as the XL2 and GL2 has always been to expand the creative visions of filmmakers," said Yukiaki Hashimoto of Canon. "The DTE technology in the FS-4 recorder meets the very stringent requirements set by our consumers, which is why we chose to work with Focus Enhancements."
"Canon selecting FireStore Direct To Edit Technology for their disk recording needs is an important alliance for Focus Enhancements," said David O'Kelly of Focus Enhancements. " We are excited that we will be further extending our acquisition solutions to Canon's broad base of creative professionals, and we look forward to a successful alliance."
The FS-4 Pro recorder adds support for the Avid OMF and Pinnacle AVI formats, and retro record modes for backup. Other features include a user definable time lapse, loop playback, scene marking, and multiple file capabilities.
The new FireStore FS-4 recorder will be available in February for a price of $799 for the standard 40GB model, while the FS-4 Pro model will be available at $1,195 for the 40GB model and $1,695 for the 80GB model.
Canon USA delivers consumer, business-to-business, and industrial imaging solutions.
Focus Enhancements designs video solutions with advanced, proprietary video conversion integrated circuits and digital-video conversion and video production equipment.