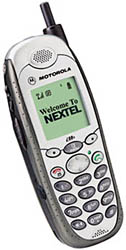 Nextel Communications today announced the availability of the Motorola i88s mobile phone, the newest addition to Nextel's growing product portfolio and the first Nextel handset to support location-based services with Global Positioning Satellite (GPS) technology.
'This phone is the first Nextel handset that will provide technically capable emergency response centers with information that will assist in the location of someone who has called 911 from his or her GPS-enabled Nextel phone,' said Greg Santoro, vice president of Nextel Internet and Wireless Services. 'The i88s also will support future location based services for our wireless customers.'
The Motorola i88s will offer individual and business users all of Nextel's integrated services, including: all-digital cellular, Direct Connect -- the incredibly powerful long-range walkie-talkie feature -- Nextel Online Web, as well as email and messaging services.
Equipped with an internal GPS antenna and GPS functionality to provide latitude and longitude information about the phone's user, the i88s will also offer Nextel customers high value features including Java technology, speakerphone, voice recorder, voice-activated dialing, 250-entry phonebook, date book, VibraCall alert and a SIM card for easy transfer of information between Nextel phones.
Location-enabled Java applications and location-enhanced services for the i88s will be commercially available next year.