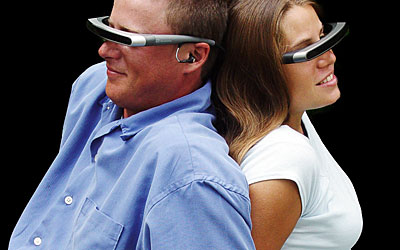 MicroOptical introduced its myvu personal media viewer at the Macworld. The myvu viewer, which comprises eyewear with built in video viewing and audio systems, revolutionizes the way people watch video with an Apple iPod.
By connecting the small, ultra-light binocular eyewear viewer to an iPod, users can watch their favorite music videos, video podcasts and TV shows with a large image right in front of their eyes. Since MicroOptical's myvu viewer works indoors and outdoors, users can experience portable video anywhere, anytime. Because the display and audio systems are built into the eyewear, myvu can be worn in any position -- reclining on an airplane, sitting on a park bench and even lying down on a couch.
"MicroOptical proved the myvu viewer's ability to deliver portable video in France, where under the Orange brand it is paired by France Telecom with a Samsung D600 cell phone," said Mark Spitzer of Micro Optical. "We chose Macworld as the venue to debut the product in the U.S. because of the overwhelming response Apple has had for its video iPod. As the iPod changes the way people experience video, the myvu viewer will accelerate its adoption by providing hands free, head-up access to a large virtual image. The myvu viewer makes watching portable video more practical."