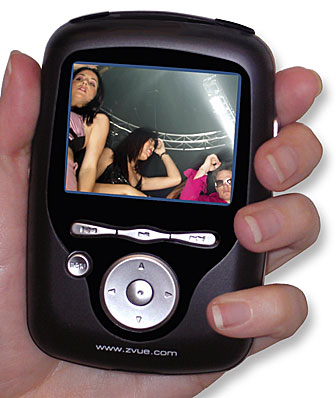 The latest generation of ZVUE portable media players will feature on-board flash memory, a rechargeable lithium-ion battery, and be compatible with Windows Media Video (WMV) and Windows Media Audio (WMA) through the use of Microsoft's secure Digital Rights Management (DRM) software.
Supporting Microsoft's DRM will allow all ZVUE users to download video and audio content from the ZVUE download site as well as at hundreds of online locations. As a result, the Windows DRM-enabled portable media player will cost less than $200.
"Our ZVUE product family will provide our customers with easy access to great music and video content on both our site and all over the Internet," Jeff Oscodar of HandHeld Entertainment said. "By supporting industry standard security software and developing our own site, our customers can start enjoying digital video and music right out of the box."
HandHeld Entertainment's next generation ZVUE will sport on-board storage functionality.
The initial ZVUEs utilized SD/MMC flash memory cards for storing music, videos and digital photos. The next generation ZVUE will also support SD/MMC flash memory cards.
The next generation ZVUE will utilize a thinner housing than the original ZVUE and will be available in new colors. Multiple ZVUE models will be available for purchase in 2006.