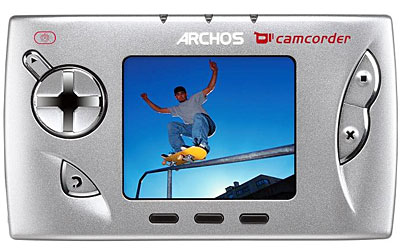 The new Gmini 402 Pocket Multimedia Center from Archos is a slim and sleek twenty-gigabyte hard-drive-based video, audio, and photo device that is now Microsoft PlaysForSure compatible, supporting both protected download and subscription music services, and features a 2.2" color LCD screen and sleek metallic casing.
The Archos Gmini 402 is designed for media enthusiasts who want to take their video, photos, and music with them on a stylish pocket-sized device. With its sleek metallic design, the Gmini 402 offers a large hard drive capacity and color LCD screen.
Store up to 80 hours of video, 200,000 photos or 10,000 songs. Autosync with Windows Media Player 10 allows for easy transfer of media from the PC. Transfer photos directly from digital cameras using the USB host port. Allow DVD-quality movie playback and photo viewing on the screen or on the TV. Play MPEG-4 and Windows Media Video files. Play MP3, WMA, and protected WMA audio files. Use Microsoft PlaysForSure download and subscription services to allow easy transfer and playback of music or videos acquired from PlaysForSure-compatible online stores. Synchronize or download files from either the PC or Macintosh.
"The Gmini 402 improves our PC-centric line of Pocket Multimedia Centers, offering integration with Microsoft PlaysForSure and Windows Media Audio and Video protected files," said Henri Crohas of Archos.
The Gmini 402 allows protected video and music content to be purchased, downloaded, subscribed to or rented from PlaysForSure-compatible online stores, which include music services MSN Music, Musicmatch, MusicNow, Napster and Wal-Mart Music Downloads, and video store CinemaNow. Using the high-speed USB 2.0 interface, the Gmini 402 will easily auto-synchronize music and video with Windows Media Player 10 each time the device is connected to the PC.
The Archos Gmini 402 is priced at $299.95. It comes with earphones, USB cable, USB Host adaptor, AC power charger, quick start guide, and a protective pouch. Optional accessories include a car adaptor, protective case, additional power charger, sound case, FM remote control, and double headphone kit.
Archos develops digital pocket-sized products that feature audio and video recording, photo viewing, gaming, and productivity applications.