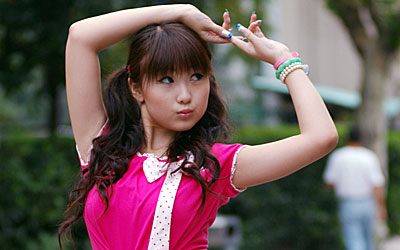 Support for deep color, higher speed, and easier integration into personal computers are under development for the next version of High-Definition Multimedia Interface (HDMI) targeted for the first half of 2006. By delivering crystal-clear, all-digital audio and video via a single cable, HDMI dramatically simplifies cabling and helps provide consumers with high quality home theater.
Though HDMI has more than twice the bandwidth needed to support all HDTV formats, HDMI will increase its single-link bandwidth to support the demands of future HD display devices, such as higher resolutions, deep color and high frame rates.
HDMI will support 30-bit, 36-bit and 48-bit color depths for stunning rendering of over one billion colors in unprecedented detail.
HDMI will be enhanced for easier integration into low voltage, AC-coupled PC graphics controllers, cementing HDMI's position as the de facto standard digital multimedia interface enabling true convergence across PC and CE platforms. The HDMI Founders also support compatibility between HDMI and the Unified Display Interface (UDI), the HDMI-compatible digital video interface for PC displays announced recently by a group of leading PC technology makers.
New mini connector: With small portable devices such as HD camcorders and still cameras demanding seamless HDTV connectivity, HDMI will offer a new, smaller form-factor connector option. Since HDMI offers the highest quality digital audio and video on a single connection, such devices will be also benefit from a reduced connector count.
CE devices are employing increasingly complex digital signal processing of high-resolution video and audio formats to enhance the clarity and detail of the content. As a result, synchronization of video and audio in user devices has become a greater challenge and could potentially require complex end-user adjustments. HDMI will incorporate features to enable this synchronization to be done automatically by the devices with greater accuracy.
In addition to HDMI's current ability to support high-bandwidth uncompressed digital audio and all currently-available compressed formats (such as Dolby Digital and DTS), HDMI will add additional support for new compressed digital audio formats Dolby TrueHD and DTS-HD.
Products implementing these new versions of the HDMI specification will continue to be fully backward compatible with earlier HDMI products.
This announcement comes as HDMI solidifies its position as the de facto standard digital interface for HD and the consumer electronics market. HDMI Licensing LLC today announced that more than 300 makers of consumer electronics and PC products worldwide have adopted HDMI. More than 17 million devices featuring HDMI were shipped during 2005 and 59 million more are expected to ship in 2006.
Most major HDTV manufacturers have incorporated HDMI inputs into their latest offerings. HDMI has also been incorporated into media PCs, DVD players, DVD recorders, cable set-top boxes, satellite set-top boxes, and A/V receivers, with HDMI expected in game consoles and camcorders during 2006.
Internationally, HDMI is undergoing significant growth. In China, which alone accounts for almost a third of the world's television-owning households, 45 mainland Chinese companies have become HDMI Adopters, and the number is growing rapidly. In November 2005, China's first HDMI testing facility was announced in Shenzen, which will greatly simplify and accelerate the process of bringing HDMI to the Chinese market. In August, the Cable and Satellite Broadcast Association of Asia (CASBAA) recommended that HDMI (or DVI) and HDCP "be included on every set-top box capable of outputting uncompressed high definition content." In Europe, the European Information & Communications Technology Industry Association (EICTA) in 2005 mandated that all HDTVs displaying the HD Ready logo must include HDMI or DVI inputs.
HDMI has also gained significant traction in the PC world over the past year.
"The consistent adoption of the HDMI specification by consumer electronics and PC manufacturers proves the high potential of the standard," said Scott Vouri of NVIDIA. "We believe in the interoperability of consumer electronics devices and personal computers as well as in the ability to view high definition content through a stable and secure standard, and this is why we support HDMI in NVIDIA's consumer PC graphics products."
"Disney has supported the deployment of HDMI since the first version of the specification was issued in 2002," said Bob Lambert of The Walt Disney Company. "The widespread adoption of HDMI in conjunction with HDCP has played an important role in enabling the transition to digital TV. We congratulate the HDMI community on achieving the important milestone of 300 adopters worldwide."
The latest HDMI specification can be downloaded at hdmi.org.