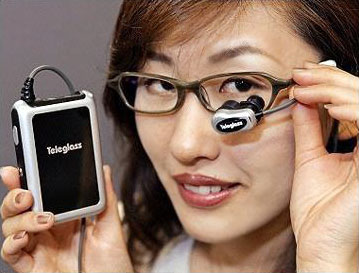 Scalar has integrated Kopin's CyberDisplay 180K color-filter microdisplay into Scalar's Teleglass, the world's smallest video eyewear for video-on-the-go applications.
Connected to a mobile phone, portable DVD player or digital camera, Teleglass projects high-resolution video on eyeglasses, creating a virtual 28-inch TV screen as viewed from seven feet away. This system has a switcher for the people to use dominant eye to watch video. The eyewear projects images in either the left or right eye, enabling the wearer to privately watch movies or TV, read text or view pictures without obstructing the other eye.
"Scalar's Teleglass is a big breakthrough in video eyewear," said Masao Yamamoto of Scalar. "Incorporating the unique features of Kopin's CyberDisplay - tiny display size, high pixel density and ultra-low power consumption - enabled us to design a commercial winner that has already generated considerable consumer interest."
Described by The Times of London as "the ultimate gadget for anyone bored in a queue or commuting to and from work," Teleglass is an ideal solution for mobile phone and wireless device users who download video and information on the go. "For their small size, the pictures projected into the Teleglass are surprisingly clear and eyes do not have to strain to watch them over an extended period," The Times added.
Weighing just five grams and easily attached to ordinary eyeglasses, the diminutive device is also comfortable, stylish and relatively inconspicuous compared to earlier generation video eyewear products.
"Scalar has used a unique approach to solve the key problem hindering mass consumer adoption of video-on-the-go; namely, providing a big-screen video experience for small screen devices in a discrete, fashionable product," said Dr. John C.C. Fan of Kopin. "Our CyberDisplay 180K provides a large, crisp full-color image in a very compact size, which is ideal for Teleglass' form factor."
Built with nanotechnology, the CyberDisplay 180K is a 0.24-inch-diagonal color-filter active matrix liquid crystal display (AMLCD) with a resolution of 800-by-225 (180,000) color dots. In addition to displaying standard text and graphics, the display operates at traditional video speeds and consumes less than 15 milliwatts of power. Kopin's power-efficient CyberDisplay 180K is ideal for a range of portable consumer and industrial applications such as video eyewear, digital still cameras and camcorder viewfinders.
Scalar manufactures digital video microscopes and other optoelectronic products.
Kopin develops digital imaging and telecommunications technologies.