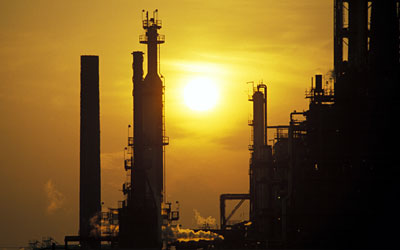 Emerson Process Management has been selected by Pemex for a $3.9 million project to automate part of the oil and gas company's Tula refinery near Mexico City.
Emerson's PlantWeb digital plant architecture with Foundation fieldbus technology will be used to automate a new alkylation plant at the Tula refinery that will produce high-octane gasoline. The refinery has a production capacity of 320,000 BPD (barrels per day), with most of the production supplying the motor fuel needs of Mexico City residents.
"After exhaustive reviews of all the new automation technology presented to Pemex, we selected Emerson because we see PlantWeb as the future in process control," said Alfredo Martinez, control systems engineering manager.
In selecting Emerson, Pemex cited:
Efficiencies of supporting a single supplier solution with leading edge technology;
Engineering flexibility and savings due to PlantWeb's use of standards in the different layers of the system;
Improved plant availability through the use of advanced diagnostics in field devices; and
Quick availability enabled by PlantWeb's easy configuration and reduced time needed to engineer and commission the alkylation plant.
Martinez also cited the company's success with Emerson's PlantWeb at the Deer Park, Texas refinery that Pemex owns jointly with Shell.
Tula's original alkylation plant was destroyed in a gas leak-related fire in December 2001. In working to rebuild the alkylation plant, Pemex spent several months reviewing major automation suppliers and their technology before selecting Emerson Process Management and its PlantWeb digital plant architecture.
"PlantWeb has proven its ability to deliver savings in the capital phase of projects, and -- once commissioned -- has shown its ability to improve plant availability and operations," said John Berra, president of Emerson Process Management. "Although, Pemex initially set out to replicate their traditional distributed control system, we presented the alternative of PlantWeb digital plant architecture because of its advantages for the Pemex plant."
With Emerson's PlantWeb architecture, Pemex will be able to give authorized personnel access to real-time device, equipment, and process health information, no matter where they are physically located on the refinery site. Emerson's PlantWeb solution includes a DeltaV digital automation system with predictive maintenance software that communicates with intelligent field devices using FOUNDATION fieldbus protocol.
Pemex is Mexico's national petroleum company with the responsibility of developing the country's hydrocarbon resources. Based on its resources, production level, refining capacity and sales volume, Pemex is the seventh largest oil company in the world. Pemex produces and distributes its refining products and petrochemical raw materials throughout Mexico, and maintains commercial relations throughout the world.
Emerson helps businesses automate their production, processing, and distribution in the chemical, oil and gas, refining, pulp and paper, power, food and beverage, pharmaceutical, and other industries.