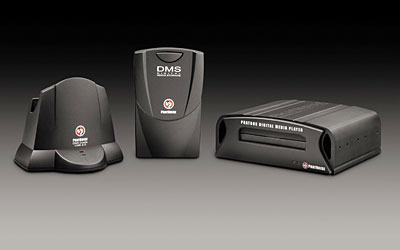 Mazda, in a partnership with PhatNoise, will soon begin offering the PhatBox Digital Media Player as a dealer-installed accessory in all Mazda vehicles.
The PhatBox Digital Media Player integrates seamlessly with existing Mazda sound systems and will provide drivers with hundreds of hours of music without having to search through compact discs or flip radio stations. The PhatBox can be trunk-mounted and stores music on a removable 20-gigabyte hard drive that can be transferred between multiple PhatBox units.
The system is controlled by the existing CD changer controls on all Mazda radios, with an interface designed to make finding music simple. Using the radio panel screen, PhatBox displays artist and disc titles, and, for factory radios on the MAZDA3, MAZDA6, Miata, and RX-8, offers voice-assisted browsing with an SSA (Simple Stereo Architecture)/Voice interface. This device allows drivers to utilize voice command music selection for close to 3,500 song titles without ever taking their hands off the wheel.
"Mazda continues to be focused on providing fun-to-drive cars and trucks with the most advanced multimedia systems available," said Jack Stavana, director of accessory operations. "The addition of PhatBox to our industry-leading accessories program enhances the overall Mazda driving experience with customized, portable premium sound."
Mazda's accessories program makes MiniDisc players, Sirius satellite radio, 6-disc in-dash CD and cassette players available to customers as port-and-dealer-installed options. Thanks to easily adaptable factory sound systems, adding the media player of choice is affordable and covered by Mazda's new-car warranty. The PhatBox system, which allows drivers to have access to their entire music collection while on the move, will initially be offered as a Mazda dealer-installed accessory.