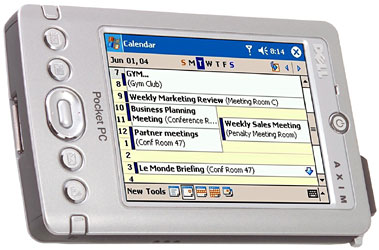 Dell today introduced three new Axim handheld computers with the latest handheld Intel processors, Windows Mobile 2003 Second Edition software for Pocket PC and Bluetooth wireless technology.
Prices start at $199 for a non-wireless configuration, $249 after a $30 instant rebate for combination wireless capability, and $349 for the fastest handheld processor available.
Two of the three configurations feature a combination of Bluetooth and WiFi 802.11b wireless technology. Bluetooth allows personal area networking with computer systems and Bluetooth-enabled devices such as mobile phones, GPS receivers, keyboards and other handheld computers. Integrated WiFi enables users to connect wirelessly to the Internet via thousands of hotspots at restaurants and coffee houses, college campuses, sports venues, hotels, airports and other locations.
The Dell Axim X30 is powered by Intel's PXA270 processors, which provide excellent multimedia performance and power management features that help extend battery life. When configuring their Axim X30, customers choose between two processor speeds: 312MHz or 624MHz, the fastest processor speed available for handheld devices.
The Axim X30 features Microsoft's updated software, Windows Mobile 2003 Second Edition, which enables users to switch between portrait and landscape display orientation, and other features that enable easy viewing of Web site content.
All three configurations include built-in Secure Digital I/O slot, a 3.5-inch transflective TFT color display with 240x320 (QVGA) resolution, headphone jack and improved recorder capability, and scroll dial. The $199 and the $249 configurations come with a travel sync cable while the $349 configuration comes with a sync/recharge cradle with an extra battery charge slot that accommodates either the spare standard battery (950 mAh) or the optional high-capacity (1800 mAh) battery ($99). All come with Dell's One Year Advanced Exchange Service.
Technical Features of the Axim include:
Microsoft Windows Mobile 2003 Second Edition, including Pocket versions of Microsoft Outlook, Word, Excel, Internet Explorer, MSN Messenger, Windows Media player and more.
Choice of Intel PXA270 Processor at 312MHz or 624MHz
64MB SDRAM or 32MB SDRAM
64MB or 32MB Intel StrataFlash ROM
1 Secure Digital IO Slot
Consumer IrDa Port
Built-In Microphone & Speaker
Backlit Power Button/Indicator Light
139.3.g (4.9 oz)
122.4 x 14.9 x 77.2mm (4.82" x 0.59" x 3")
Power Button, 4 Application Keys, 5-Way Navigator Button, Scroll Dial, Wireless On/Off Button, Record Button, Headphone Mini-Jack
USB Cradle With 2nd Primary Battery Charging Slot (Standard With 624mhz Configuration)
Ships Standard with Cradle or Synch Cable, AC Adapter & Power Cord, Protective Jacket, System Documentation & Companion CD.