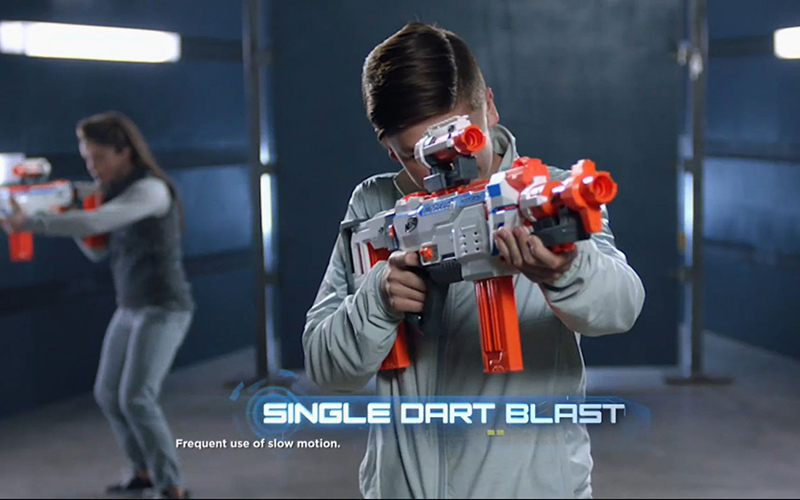 Modulous X-Fire with Regulator. Nerf N-Strike. Burst, Single Fire, Continuous Fire.
Nerf Modulus Regulator - For the ultimate in high-performance sports action, it's Nerf or Nothin'. Build and customize for any mission or battle with the Nerf Modulus system of blasters, upgrade kits, gear, accessories and darts. Fire up the action with the Nerf Modulus Regulator blaster that features SwitchFire Technology.
Blaster features SwitchFire Technology
3 modes: Single-fire, burst-fire, continuous-fire
Customize with swivel handle, storage stock, and 2 different barrel-scopes
Indicator blinks when clip is empty
Includes two 12-dart clips and 24 Modulus Elite darts
Swivel handle to stabilize shots
Storage stock and 2 barrel-scopes
SwitchFire Technology - The Nerf Modulus Regulator blaster features SwitchFire Technology to choose from 3 different firing modes. Flip the switch to select single-fire to fire 1 dart per trigger pull. Change to burst-fire to blast several darts per trigger pull. Switch to continuous-fire to rapidly unleash all the darts. Scope out the field and the opponents, then optimize for battle with SwitchFire Technology.
Load, Power Up, and Fire - The Nerf Modulus Regulator blaster comes with two 12-dart clips and 24 Elite darts. Load both clips, then insert 1 into the blaster and store the other 1 in the storage stock. Now it's time to battle, so power up the blaster's motor by holding down the accelerator button, and let the darts fly. The indicator light lets kids know when the clip is empty and it's time to reload.
Customize For Any Mission - Customize the Nerf Modulus Regulator blaster with the 2 barrel-scopes, swivel handle, and storage stock. Each barrel-scope is a different length and can be used as either a barrel extension or a targeting scope. Kids can attach the swivel handle to stabilize shots as they empty each clip. Use the detachable stock to customize the blaster for mobile battle configurations and has storage for 1 clip.
Includes blaster, short barrel-scope, long barrel-scope, storage stock, swivel handle, two 12-dart clips, 24 darts, and instructions.