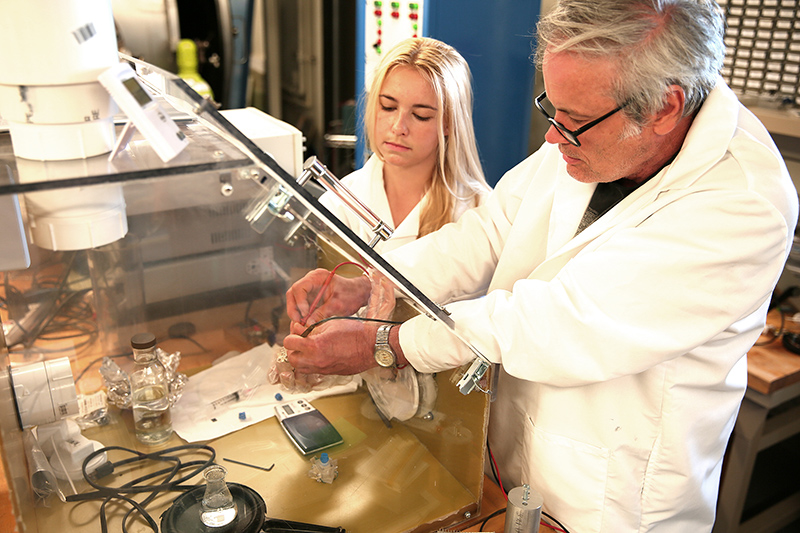 A new type of micropropulsion system for miniature satellites called CubeSats uses an innovative design of tiny nozzles that release precise bursts of water vapor to maneuver the spacecraft.
To achieve their full potential, CubeSats will require micropropulsion devices to deliver precise low-thrust impulse bits for scientific, commercial and military space applications.
Alina Alexeenko, a professor in Purdue University's School of Aeronautics and Astronautics, has led research to develop a new micropropulsion system that uses ultra-purified water.
The new system, called a Film-Evaporation MEMS Tunable Array, or FEMTA thruster, uses capillaries small enough to harness the microscopic properties of water. Because the capillaries are only about 10 micrometers in diameter, the surface tension of the fluid keeps it from flowing out, even in the vacuum of space. Activating small heaters located near the ends of the capillaries creates water vapor and provides thrust. In this way, the capillaries become valves that can be turned on and off by activating the heaters. The technology is similar to an inkjet printer, which uses heaters to push out droplets of ink.
The research paper was authored by graduate student Katherine Fowee; undergraduate students Steven Pugia, Ryan Clay, Matthew Fuehne and Margaret Linker; postdoctoral research associate Anthony Cofer; and Professor Alexeenko.
The research involved a collaboration with NASA's Goddard Space Flight Center through the space agency's SmallSat Technology Partnership program, which provided critical funding since the concept inception in 2013. A patent application for the concept has been filed through the Purdue Research Foundation's Office of Technology Commercialization. The nozzles for the system were fabricated in the Scifres Nanofabrication Laboratory in the Birck Nanotechnology Center in Purdue's Discovery Park.