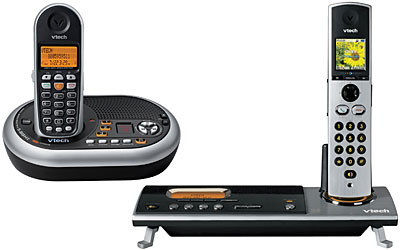 VTech is introducting twenty-three new cordless telephones. Featuring the latest in cordless telecommunications, VTech's new product line includes the first ever fully integrated Voice over Internet Protocol (VoIP) broadband cordless 5.8 GHz telephone, the sleek i5858 that offers the latest in ringtones and graphic interface and new mini models that stylistically mimic mobile handsets.
"With the launch of a completely new line of cordless phones, VTech combines the latest cordless phone technology with innovative design styles and practical features," said Donna Silbert of VTech. "We offer cordless phone technologies with stunning designs, advanced features, and technology."
In 2005, VoIP is projected to begin taking hold, with more than five million VoIP users worldwide by the middle of 2004, according to figures from broadband research firm Point Topic. VTech is the first company to bring fully-integrated VoIP technology to household and small office users with the new ip8100 5.8 GHz cordless broadband phone, featuring an integrated terminal adapter and eliminating wired computer connections. This model includes two handsets and one base station, and is expandable up to four handsets. The VTech ip8100 plug-and-play solution does not require a separate router and works with either a broadband cable or DSL modem.
To complete the VoIP offering, VTech has partnered with leading broadband service provider Vonage, which will provide telephony services. Other features include hands-free handset speakerphone, caller ID, 50 name/number phonebook, and 10 ringer melodies.
VTech's contemporary new black and silver mini design packs big features into a small form, with a stylistic design representative of a cellular telephone design, which consumers have come to embrace for their portability. The mini mi6861 is expandable up to four additional handsets and has an integrated digital answering system with three mailboxes. Great for the small business on the rise, the mini mi6861 provides flexibility as needs expand in the home or office, and there is no need to keep a separate phonebook as it has a 50 name/number phonebook directory.
VTech's new 5.8 GHz digital i5858 cordless phone's sleek, ultra-tech design is the perfect blend of form and function, providing modern flair to any home. VTech's i5858 is expandable up to eight handsets, each with a 65K high-resolution color LCD screen, speakerphone and ability to share phonebook directories between respective handsets. The Phonebook Download feature enables users to export their phonebook from popular applications, such as MS Outlook and Palm, directly into the handset. Users can set musical ring tones and picture caller ID for their favorite callers using the recordable ringer and phonebook directory features. In addition to the i5858, VTech is introducing several other new 5.8 GHz models, the best in cordless phone technology, as the 5.8 GHz frequency does not interfere with wireless internet routers.
VTech supplies corded and cordless phones as well as electronic learning products.