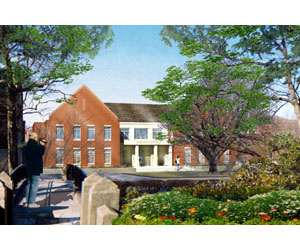 Worcester Polytechnic Institute (WPI) has deployed a high-performance, network infrastructure from Nortel Networks to transform its voice, data and wireless networks into a single, converged 'best-in-class' solution that is both scalable and reliable.
This network seamlessly connects WPI's main campus in Worcester, Massachusetts, with branch campuses in Waltham and Southborough, Massachusetts.
"To satisfy the stringent requirements of our users, including faculty, students and research associates, we need a state-of-the-art network that provides voice and data with multi-gigabit capacity," said Sean O'Connor, manager, network operations, Worcester Polytechnic Institute. "Our network demands are profound and we have to meet the needs of our users regardless of how, when, from where and from whatever device they have to access the network."
WPI's selection criteria for a converged Internet Protocol (IP) network included performance, ease of management, lowest total cost of ownership, and reliability. Also included was the ability to incorporate hardware and software upgrades as they become available to 'future proof' the network.
"Our evaluation process was quite exhaustive and we needed to ensure performance, security, scalability and the ability to accommodate upgrades simply, all without compromise," O'Connor said. "While we are currently evaluating the wireless component, we're confident this network solution ensures we can provide what our users require when they need it."
As part of Nortel Networks 'One network. A world of choice.' enterprise vision, a converged network enables new ways of networking that are responsive, manageable and cost-efficient.
"WPI has recognized the need to provide the best-performing network with iron-clad security measures," said Atul Bhatnagar, vice president and general manager, Enterprise Data Networks, Nortel Networks. "The requirement was to provide a scalable, evolutionary, upgradeable infrastructure that offers among the lowest total costs of ownership in the industry without creating undo hurdles for remote users."
"Our solution delivers on these requirements," Bhatnagar said. "We are very pleased to be selected to provide secure voice, data and wireless communications to one of the premier engineering schools in this country."
Network performance is especially critical to WPI because its philosophy is to teach students not only the fundamentals of science and technology, but also to apply those principles to real world problems. Deploying a leading-edge network attracts the most talented educators and students while supporting their ability to apply their knowledge to technical issues.
Integration Partners Corporation, a network design and consulting company based in Cambridge, Mass., provided support for the WPI network implementation. Integration Partners provided and supported live trial evaluations and recommendations of networking products for each stage of WPI's network evolution, providing meaningful criteria of networking requirements and capabilities. Integration Partners has been working closely with WPI over the past four years.
WPI deployed its next generation converged network with Nortel Networks Passport 8600 Intelligent Routing Switch serving as the network backbone. Providing data traffic management and intelligent content switching, Passport 8600 is also deployed at the network core, along with Nortel Networks BayStack Business Policy Switch 2000, BayStack 380 and Baystack 470 to provide desktop connectivity from the wiring closet.
To provide secure, robust, fully-featured IP telephony as well as multimedia content, WPI selected Nortel Networks Succession Multimedia Communication Server 5100 to overlay its existing IP-enabled Nortel Networks Meridian Option 81C. For survivable, fully-featured IP Telephony at remote sites, WPI deployed Nortel Networks Business Communications Manager and Remote Office 9150. Deployment of Succession Enterprise products positioned WPI to extend unified messaging across multiple devices compatible with its current hardware and software. WPI is also using Nortel Networks Optivity Telephony Manager, which provides desktop management capabilities that allow the college to add telephones and mailboxes as needed quickly and efficiently.
To satisfy the school's requirements to provide secure, wireless connectivity that allows users to seamlessly roam about the campus without limitations, WPI is evaluating a wireless LAN (WLAN) enabled by Nortel Networks WLAN Security Switch 2250 and WLAN Access Point 2220. In addition to enabling full mobility for end-users and providing secure access to the network via the highest-performing radio link, the WLAN switch can provide centralized management and unauthorized access point detection for the wireless component of the network.
To provide network security, WPI deployed Nortel Networks Contivity solution to provide virtual private networks (VPNs) for leased-line reliability and secure remote access with the global ubiquity of the Internet. Contivity IP Services Gateways provide remote access, branch access, routing, firewalling, authentication and encryption for secure tunneling across the Internet.
Using both Passport 8600 and Succession Enterprise products provides a tightly-integrated IP network that is scalable and easy to manage. The combination of products across data, voice and wireless communications support Unified Messaging as well as Quality of Service traffic prioritization, critical for latency-sensitive applications like IP Telephony and streaming media. In addition, unique features of Passport 8600 provide network resiliency by eliminating single points of failure in the network, increasing the reliability and availability of applications.