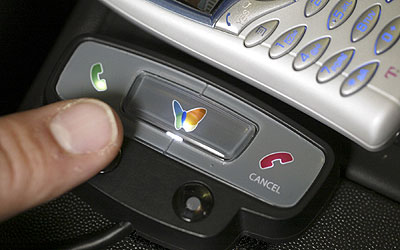 Microsoft's Connected Car Technology was named Best Telematics Solution at Telematics Update Awards 2004. A panel of automotive and telematics technology experts selected Microsoft Connected Car Technology from a strong group of finalists including Motorola's Global Telematics Platform, General Motors' OnStar, QNX Software Systems' QNX Neutrino realtime operating system (RTOS), and Intelematics Australia's DriveZone TSH.
Microsoft's Connected Car Technology was recognized as the industry's best end-to-end solution based on factors such as cost, quality and functionality. The technology races past today's limited and often unsafe means for accessing information in the car, such as traditional maps, cell phones and personal digital assistants (PDAs). It also helps keep drivers clued in to maintenance concerns such as oil level or engine status so they don't have to "guesstimate" when they're due for their next service call. Microsoft's Connected Car Technology focuses on providing drivers with useful information that makes getting from place to place easier than ever. Powered by Windows Automotive technology, the technology provides these features:
Advanced speech technology - Drivers can stay focused on the road ahead by using Microsoft's powerful speech technology to get personalized traffic updates, place a phone call, ask for driving directions or even play digital music.
PDA and cell phone integration - Bluetooth technology wirelessly connects a driver's Bluetooth enabled cell phone and PDA to the vehicle's electronics system, allowing drivers to speak to make and receive calls, receive meeting reminders, and access important data through the car audio system.
Web services - Drivers can avoid traffic jams, get the latest headlines or find the closest gas station with the lowest prices via MSN Autos using personalized, voice-controlled Internet access.
Customized navigation - Taking a wrong turn is a thing of the past with Connected Car Technology's voice-controlled navigation system. Drivers can find points of interest or get turn-by-turn directions with the help of Global Positioning System (GPS) and MapPoint technology.
Hands-free phone - Drivers will never again take their eyes off the road to make a call. They can enjoy a hands-free phone conversation while behind the wheel without the distraction of having to manually dial a number.
Remote diagnostics - Drivers are alerted to potential car problems and maintenance updates, potentially improving their car's performance over its lifetime.
Microsoft has been working with the automotive industry since 1995 to provide software that delivers information, entertainment, communication and services in vehicles. The company works closely with automakers, suppliers, aftermarket manufacturers, service providers and consumers to provide the embedded automotive industry with the systems and tools for building the next generation of intelligent, Windows Powered devices that demand rich applications and access to Internet services for a wide range of flexible solutions.