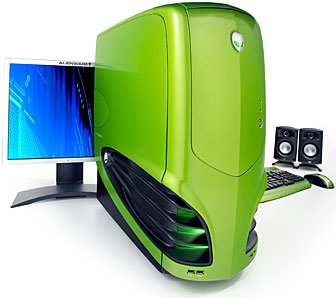 Alienware has opened its first retail location at Dadeland Mall in Miami. The new location allows customers to try out the latest Alienware products, speak face-to-face with technology experts, sign up to take instructional classes, and play PC games, as well as test drive, custom configure and buy Alienware systems. The retail location marks the launch of Alienware's initiative, which is to create an incredible user experience and give consumers a glimpse into what thousands of Alienware customers have already experienced.
The public grand opening of the Alienware retail location will take place on Saturday, December 10th. Alienware co-founder and CEO, Nelson Gonzalez, will be present that day to answer questions from the media. Visitors to the public grand opening will have the opportunity to win an award-winning Alienware Area-51 system with monitor and speakers. In addition, several lucky customers will win Alienware's new CE-IV digital audio player, and the first 100 visitors will receive a free Alienware t-shirt.
Among the products on display and available to try out first-hand are Alienware's cutting-edge gaming systems, home and home office systems, media center systems and accessories. Visitors can also learn about the latest technology by speaking in person with experts from Alienware.
"The mission of our new retail location is to create an exuberant user experience that has been thrilling thousands of Alienware customers since 1996," said Nelson Gonzalez, CEO for Alienware. "The new retail location represents an opportunity for customers to see the entire line of Alienware systems, as well as never-before-seen products, in a more personal and interactive manner."
Thermacore partnered with Alienware to develop an advanced liquid cooling system for the high performance gaming, digital content creation, and multimedia platforms. Thermacore's high-performance liquid cooled system utilizes micro channel cold plate technology and a liquid-to-air heat exchanger with Modine's parallel flow technology. These components are combined into a unique system that provides a very compact and high-performance cooling system.
Alienware announced the availability of Alienware Liquid Cooling Technology in August of this year. Patrick Cooper of Alienware explained that "the new system provides a huge advantage over conventional cooling technologies by reducing maximum operating temperatures by 15-21 degrees. This represents an improvement in thermal performance of up to 30%." The system permits the use of the latest processor technology at a significantly reduced noise level due to the elimination of secondary heat sink fans.
Modine specializes in thermal management systems and components.