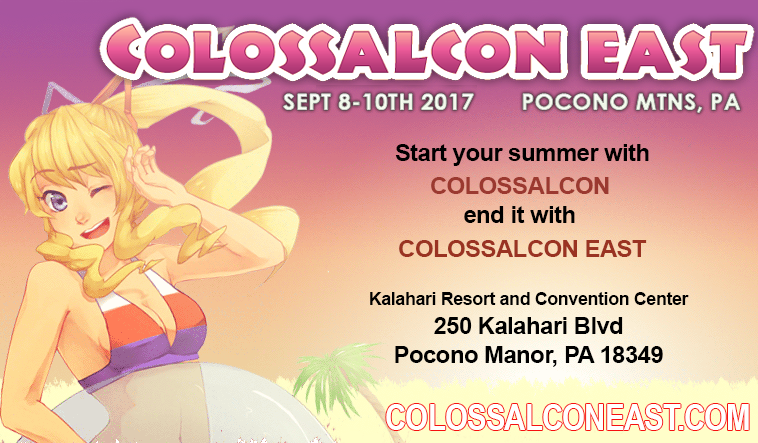 Colossalcon East was wonderful. Here is Yenra Photography's album from the event: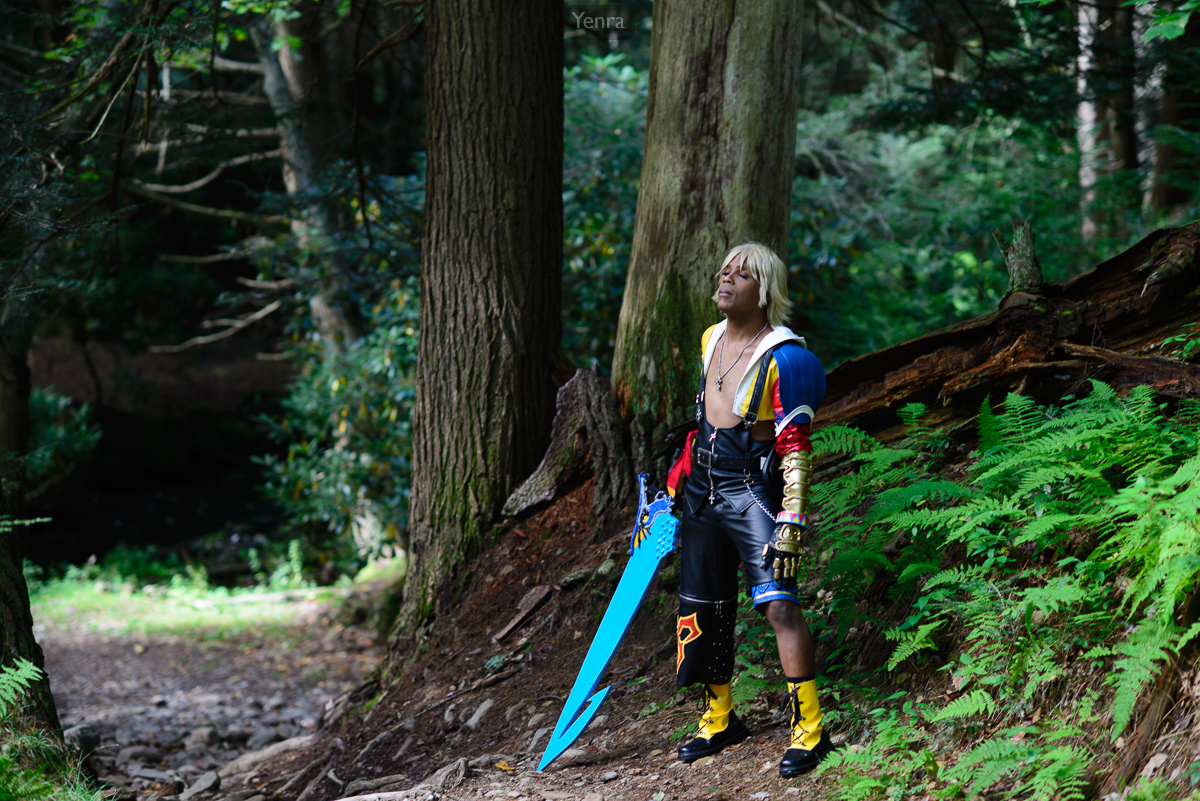 I love the current Colossalcon in Ohio so I'm really looking forward to the first Colossalcon East, which will take place September 8-10, 2017 at Kalahari Resort and Convention Center in the Pocono Mountains of Pennsylvania. Over a year to wait, but it will be worth it!
The con will take place in what will be Pennsylvania's largest indoor water park, the Kalahari Resort in the Poconos. Kalahari includes an outdoor waterpark with a huge outdoor pool, sundeck for relaxing. It also features indoor/outdoor whirlpools and a swim-up bar. The thirty thousand square foot family entertainment center includes bowling, laser tag, and arcade games.
Run of House room type called Desert is bookable now
Reserve by phone: 877-525-2427
Have first night's fee available on your card: $249.60
They may call the Desert room a Run of House room (it sounds like Rent-a-House or you'll wonder if it is one word: runahouse).
The con is Friday, Saturday, Sunday, September 8-10 - not as many days as Colossalcon which is a four-day con - so a good way to go would be to begin on Thursday, September 7th and stay for three nights, leaving on Sunday, September 10th. Colossalcon East is a 3-day con.
Checkout is 11 a.m. but you can continue to use the waterpark until it closes.
Location of Colossalcon East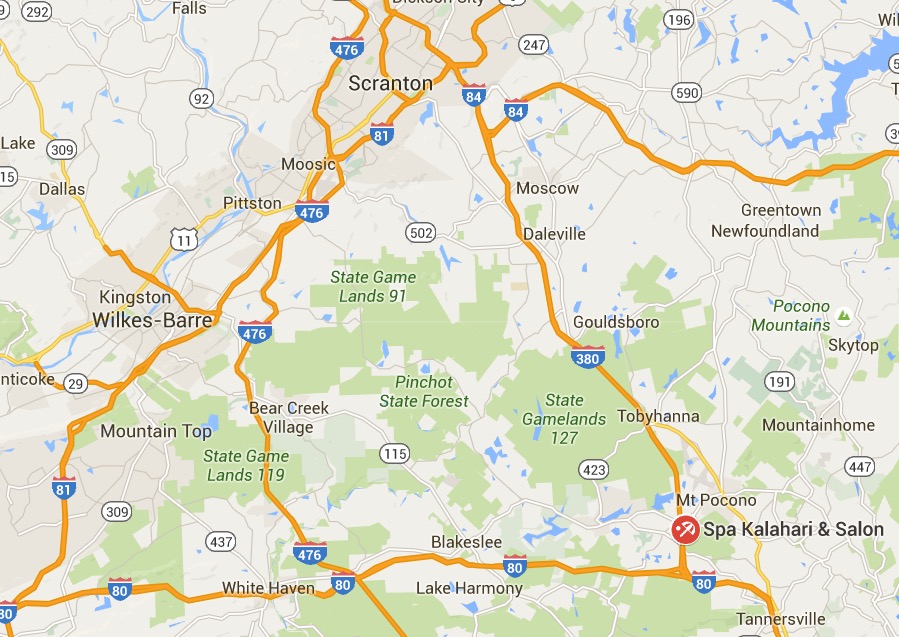 Kalahari at the lower right on the map with Scranton and Wilkes-Barre shown.
Kalahari Resort and Convention Center
250 Kalahari Blvd
Pocono Manor, PA 18349
Line to paste into your map:
250 Kalahari Blvd, Pocono Manor, PA 18349
The resort will have three distinct dining experiences. The convention center portion of the complex will be 100,000 square feet in size.
Features of resort that will host Colossalcon East
457 guest rooms containing one-, two- and three-bedroom suites
An outdoor waterpark with a huge outdoor pool, a large sundeck for relaxing, indoor/outdoor whirlpools and a swim-up bar
30,000 square foot family entertainment center with dry activities such as mini-bowling, cutting-edge arcade games, a 5D theater and black-light mini golf
Three full-service signature dining experiences
Spa Kalahari & Salon
100,000 square-foot convention center
6,000 square feet of retail
Colossalcon East will take place in a resort that is authentically African themed. Visitors will see and feel an African vibe at every turn, from the authentic handcrafted artwork adorning the walls and the Rwandan coffee beans served throughout the resort. The souvenirs sourced from local artisan communities throughout Africa. All of this was obtained during the Nelson family's recent 23-day trip to Africa, where they went for inspiration that is reflected throughout the resort.
Colossalcon East Rooms
Colossalcon East Room Availability
Desert room available now, the cost is $249.60 a night (room: $209, resort fee: $19.99, tax: $20.61) - the first room is taken off your card. If you cancel lesss than 3 days away from the event, the cancellation fee is $25. As more rooms become available at the con block rate, the hotel will help you move into them at no fee other than the difference in cost of the new room.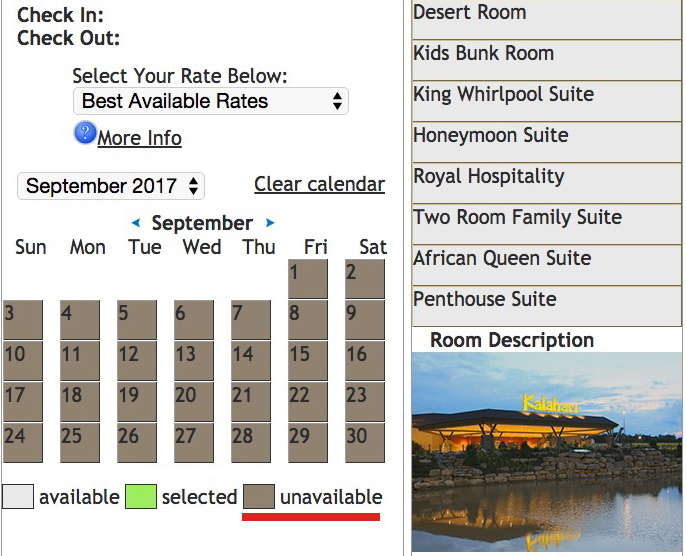 At first it was too early to reserve, but the Run of House room called the Desert room is available - but you do that over the phone.
Room types at the Kalahari, Poconos
Desert Room (the only room booking as of June 2016) - considered a Run of House room.
Kids Bunk Room
King Whirlpool Suite
Honeymoon Suite
Royal Hospitality
Two Room Family Suite
African Queen Suite
Penthouse Suite
It's too soon to know which rooms will finally be in the Colossalcon East room block. We know now that the run-of-house room type called Desert is the one available to book now (June 2016).