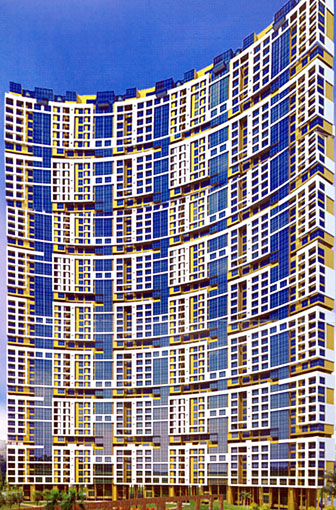 Otis Elevator Company will supply seventy elevators and escalators for one of India's tallest buildings and for a combined shopping mall and amusement park that will feature a moving walkway.
"Otis is pleased to have been given the opportunity to demonstrate the versatility and efficiency of our products in these landmark projects," said President Ari Bousbib.
Planet Godrej, a 48-story, five-tower residential complex in central Mumbai, will cover nine acres and be one of India's tallest buildings when completed late next year. Each tower will be equipped with three Otis high-speed gearless elevators.
"Our residents expect and deserve excellent service and reliability from their elevators, so Otis was a natural choice," said Milind S. Korde of Godrej Properties.
Great India Place will be a shopping complex and world-class amusement park combination spread across 173 acres in Noida, a city in the northern Indian state of Uttar Pradesh. Otis will supply and install one Trav-O-Lator moving walkway, 32 escalators, four Gen2 machine-roomless elevators and 22 Infinity elevators, which allow the customer to choose a variety of architecture and cab finishes. Otis joined designers from around the world to assess traffic patterns and the best solutions for meeting the needs of the mall's visitors and tenants.
Custom features include special stainless steel finishes, round cars, fiber optic platform lighting, LED cluster lights in floors, glass doors, and LCDs on all floors and in all cars.
"We are confident Otis is providing a high-end solution while partnering with us to supply a product for the next generation," said Sidharth Shankar Bhowmick of Unitech.
Otis Elevator Company manufacturers and maintains people-moving products, including elevators, escalators, and moving walkways.