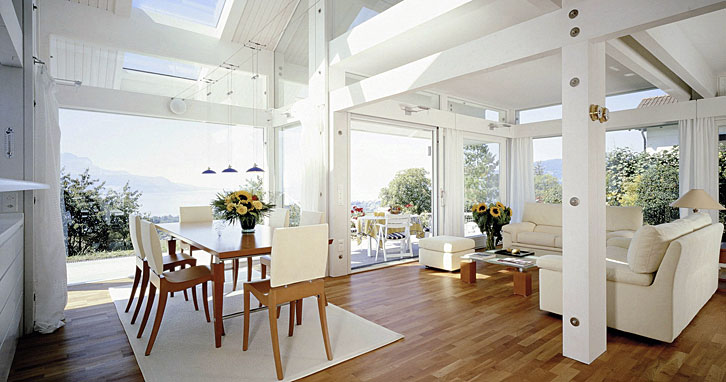 Designed specifically for use in residential windows, ClimaGuard SPF from Guardian Industries blocks 99.9% of ultraviolet (UV) radiation without any visible change in light.
Growing awareness of the risks associated with exposure to ultraviolet radiation has led the public to widespread use of sunscreen, sunglasses, and protective clothing. Household furnishings have a good reason to fear the sun as well. UV radiation is largely responsible for the fading and deterioration of furniture, carpets, hardwood floors and other interior furnishings. This damage is irreversible. Until now, homeowners have been forced to accept undesirable tradeoffs if they wanted to protect their home furnishings from the damaging effects of the sun.
With ClimaGuard SPF, homeowners can block ultraviolet radiation from entering the home without sacrificing the primary benefit of windows - natural daylight and outdoor views.
The full brightness and beauty of visible sunlight passes straight through this unique combination of glass coatings to illuminate the home. Only the invisible damaging UV rays are removed.
"When it comes to UV protection, ClimaGuard SPF is in a league of its own," said Tim Singel of Guardian Industries. "High performance low-E coatings offer some UV protection, but not nearly enough and while there are other window technologies available offering increased UV protection, these products require a range of undesirable tradeoffs such as reduced natural daylight and a non-traditional window glass look."
ClimaGuard SPF is a window glass technology that delivers UV protection plus energy savings while keeping the beauty of natural daylight.