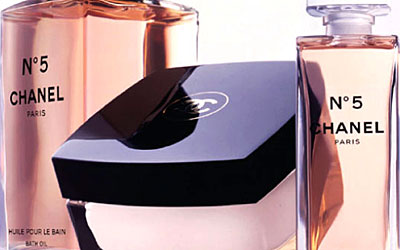 Chanel No. 5 Seduction Collection wins prestigious Fifi Award, the fragrance industry's premiere event, for best new Bath and Body Line of the year.
The FiFi Awards honors the fragrance industry's creative achievements and is held annually in New York City.
Chanel No. 5 embodies timeless luxury and seduction. Chanel created the ultimate fragrance indulgence with the introduction of the Chanel Number 5 Seduction Collection. Launched in September 2004, the Collection features three products for bath and body. The exceptional formulas beautifully enhance the magic of the fragrance in an exciting new composition and unparalleled elegant packaging.
The simple beauty of glass adds a precious touch to the luxuriously sized luxurious bottles and jar. A decorative statement in any bath.
An innovative pale peach-colored fluid gel can be touched onto pulse points and delicately massaged into the skin. The effect is instantly captivating. A daring invitation to take all the senses to new heights, Sensual Elixer responds to the advice of Mademoiselle Chanel: perfume should be worn wherever you expect to be kissed.
Sensual Elixir is presented in a sexy, slender glass bottle with curved square contours and classic Chanel black and white packaging.
Velvet Body Cream is a luxurious moisturizer that smooths and softens skin. Delicately scented, this non-greasy formula absorbs quickly and protects skin against the drying effects of harsh climates, leaving skin irresistibly touchable. Its rich texture enhances skin tone and color, leaving it silky and moisturized. The glass jar with its sumptuous contemporary design and curvaceous angles, highlights the cream's delicate, pale peach color.
Velvet Milk Bath provides total immersion in a fragrant bath, surrounded by intoxicating bubbles as the seductive scent of No. 5 envelops you and fills the entire room. Skin is soft, smooth and delicately scented.