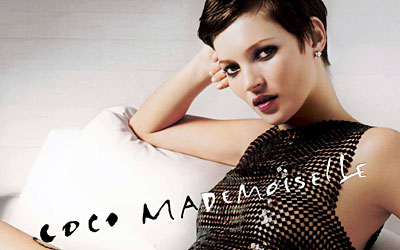 Chanel : Her Style and Her Life - Coco Chanel: her name is synonymous with luxury and elegance. But little Gabrielle Chanel was raised in an orphanage and schooled in a convent--having lost her mother and been virtually abandoned by her father. She picked up the nickname Coco when she was a young cabaret singer--"Ko Ko Rik Ko" ("Cock-a-doodle-do") being the only song she could sing. Those early years of deprivation fueled her lifelong pursuits of strong, doting men and, more famously, high fashion. After she spent years making her own clothes, hats were the first Chanel designs to earn her some recognition and a little bit of money. Bankrolled by a wealthy boyfriend--her first of many--and worn by famous opera singers, the hats--which liberated women from the complicated and extravagantly festooned headgear of the early 1900s--were the first of Chanel's many successful fashion innovations. She borrowed heavily from men's closets, belting their jackets and sweaters and pairing them with skirts to make comfortable suits for working women. She pioneered pants as eveningwear for women and invented clothing that could be worn during the day and into the night. A crisp white collar, perhaps a reference to her convent days, was a common element in her designs. She decorated her unstructured Jersey knits with pearl necklaces and faux jewels and furs so that, despite their comfort, her clothes were always luxurious. As her design empire and fame grew, so did Coco Chanel's social circle. Igor Stravinsky, the duke of Westminster, Salvador Dali, and Jean Cocteau numbered among her most intimate friends, while Princess Grace and countless Hollywood stars and European royalty were devoted to her clothes.
Supermodel Kate Moss stars in the Chanel Coco Mademoiselle ad campaign. Yesterday, Coco Mademoiselle became the first fragrance in history to win the prestigious FiFi award in every country in a single year.
In an unprecedented evening, Coco Mademoiselle by Chanel capped off a year of gold medal performances at the 30th annual Fragrance Foundation FiFi awards, bringing home top honors for Best Women's Fragrance Introduction of the Year.
This win marks the sixth FiFi awarded this year to Coco Mademoiselle, which launched in April 2001, and the first time in history that a fragrance has won the FiFi in all countries in a single year. It was the Prestige Fragrance FiFi winner in France, Germany, Spain, Italy and Great Britain, and the European Star of the Year. The FiFi's are considered to be the "Oscars" of the fragrance industry. Winners are selected by the 1,000 members of the Fragrance Foundation as well as retailers and press. The U.S. FiFi's were hosted by Annette Green, president of the Fragrance Foundation, and Tommy Tune, Broadway choreographer and dancer. Celebrity presenters included Gene Simmons, Li'l Kim, Jamie Lynn Sigler, Debbie Gibson, Candace Bushnell, Carol Alt and Elaine Stritch.
"Bringing home the U.S. FiFi is the culmination of an incredible year for Coco Mademoiselle, and we could not be more excited," said Laurie Palma, senior vice president, fragrance and internet marketing. "There were a record number of fragrance launches last year, so to receive this recognition from our peers is truly an honor."
Coco Chanel Mademoiselle was created by Jacques Polge, Chanel master perfumer, who was challenged with the task of creating a fragrance that Mademoiselle Coco Chanel herself would wear if she were turning 21 in the 21st century. The result is this new original that combines a fresh oriental with a sparkling top note, rich spicy accents and warm, spicy musk.
The Fragrance Foundation, established in 1949, is a non-profit international education arm of the fragrance industry. It was created to develop educational programs about the importance and pleasure of fragrance for the American public. Today, America is the largest fragrance market in the world, and the Fragrance Foundation has become an international source for historic, cultural, scientific and industry-related reference materials.
Chanel: Her Style and Her Life combines large black-and-white photos of the designer, her clothes and jewelry, and her lavishly decorated homes with the story of her life. The result is a book that proves how closely Chanel's career and her personal life were intertwined--how her life played out in her style and how her style, ultimately, was the sum of Coco Chanel's life.