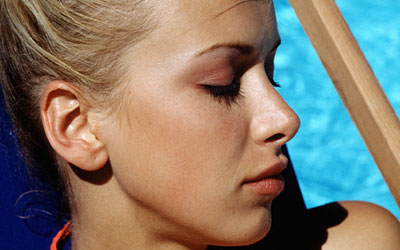 The exhibition Design Recline, which opens this month, introduces chaise lounges designed between 1928 and 1968 by many of the world's most acclaimed early modern architects. Focusing on this furniture form, it examines the tenets of modern architecture, from the radical use of new materials and technology to concepts of indoor-outdoor living and issues of sickness and health. Literally and figuratively flexible, the chaise lounge, or long chair, represented an appropriate form for use in mass-produced housing and elite private commissions alike. Design Recline: Modern Architecture and the Mid-Century Chaise Lounge opens at Harvard's Busch-Reisinger Museum March 20 and continues through July 11, 2004.
The chaise lounge flourished in the modern period as it was appropriated by architects such as Le Corbusier, Ludwig Mies van der Rohe, Marcel Breuer, Alvar Aalto, and Charles and Ray Eames and reworked as a new solution for modern living. With the advent of the open plan, in which living rooms and dining rooms flowed into one another, the chaise lounge's flexibility and portability permitted its use in multiple spaces both indoors and out. In their pursuit of healthful living, inhabitants of new homes could recline on chaise lounges in the open air and sun on their own flat roof decks and terraces.
"The Art Museums thrive on the creativity of students from across the Harvard campus who use our facilities to collaborate on research and to exhibit their findings to a larger scholarly audience," said Thomas Lentz, Elizabeth and John Moors Cabot Director of the Harvard University Art Museums. "Design Recline's focused review of the chaise lounge at mid-century and its relationship to concepts of modern architecture is yet one more example of the benefits students receive with University collaborations which further support the importance of our teaching and research mission."
Works in the exhibition are diverse in both appearance and historical significance. Included are such rarely displayed chairs as Marcel Breuer's Chaise Lounge, No. 313, designed in 1932 with aluminum and beech wood; Bruno Mathsson's Pernilla Chaise Lounge, designed in 1944 with beech wood and canvas webbing; and Alvar and Aino Aalto's "39" Chaise Lounge, designed in 1936-37 with birch plywood and cotton webbing.
The two works that were purchased for the exhibition and on which visitors are encouraged to recline are Le Corbusier, Pierre Jeanneret, and Charlotte Perriand's Chaise Lounge, designed in 1928 (this example was manufactured in 2003) with chromed tubular steel, lacquered steel, polyurethane, and cowhide, and Ludwig Mies van der Rohe's Chaise Lounge, designed in 1931 (this example was manufactured in 2003) with tubular steel, cowhide, and leather.
Design Recline is organized by Robin Schuldenfrei, Ph.D. candidate in the Graduate School of Design, Harvard University, and Andrew W. Mellon Curatorial Intern in the Busch-Reisinger Museum. According to Schuldenfrei, "For modern architects, the design and production of furniture formed the link between ideology and the reality of a new mode of living. For example, Le Corbusier, who famously referred to the house as a 'machine for living in,' also thought of furniture in functional terms, calling the chaise lounge a 'machine for rest.' Through the juxtaposition of the chaise lounge with large-scale murals depicting modern architecture this exhibition presents a way of examining the relationship between different manifestations of modernism."
Modern architects did not invent the chaise lounge, which has existed since at least the 16th century in France. The chairs were popular in England and America in the early 19th century, particularly in the 1830s. The defining characteristics are its length, its canted back, and support for the legs. Unlike the daybed, recamier, or Greek sofa, which were intended for lounging on one's side, the chaise lounge is designed for lying on one's back.
The exhibition will be accompanied by a complimentary 12-page color brochure, with an essay by Schuldenfrei and 18 photographs. The essay introduces and situates the chaise lounges in an architectural context and discusses the contradictory assumptions of architecture's modern movement.
The Harvard University Art Museums are one of the world's leading arts institutions, with the Arthur M. Sackler, Busch-Reisinger, and Fogg art museums, the Straus Center for Conservation, and the U.S. headquarters for the Archaeological Exploration of Sardis, an excavation project in western Turkey.