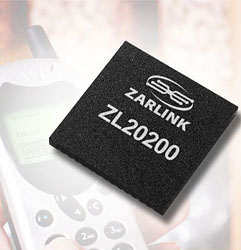 Zarlink Semiconductor today announced that its ZL20200 single-chip radio transceiver - the industry's most highly integrated, cost-effective radio chip for TDMA cell phones - is now shipping in volume into South American markets.
According to industry studies, TDMA is the most widely used wireless technology in South America, and the third most popular wireless technology globally. Motorola recently launched its C150 TDMA cell phone, which uses Zarlink's standards-compliant ZL20200 transceiver, in South America.
"The product design and development strategy for the ZL20200 transceiver achieves a balance between technology and market requirements," said Mike Bereziuk, senior vice president and general manager, Consumer Communications, Zarlink Semiconductor. "The result is a TDMA handset solution that delivers the right mix of quality, features and price."
The ZL20200 transceiver is the only commercial device that integrates TDMA call-receive and call-transmit functions on one chip. This level of integration helps manufacturers shrink the size of the radio portion of the cell phone radio by up to 40% and reduce BOM (bill of material) costs, while delivering robust voice quality.
Zarlink is developing an enhanced version of the ZL20200 transceiver that will further reduce BOM costs. The company also offers the ZL20250 radio chip, the first commercially available single-chip device to support both 2G TDMA/GSM networks and 2.5G GPRS/EDGE high-speed data platforms.
Zarlink delivers semiconductor solutions that drive the capabilities of voice, enterprise, broadband and wireless communications.