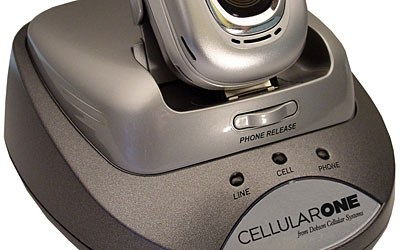 A new technology that bridges the gap between traditional landline telephone service and wireless service is now available at Cellular One from Dobson Cellular Systems.
Merge allows consumers to make or receive calls from any home phone while using their wireless plan for service. Wireless handsets are placed in a special unit that not only charges the phone but also transfers calls to the home's traditional wireline handsets.
"We believe Merge gives our customers another innovative way to use their wireless telephone," said Craig Davis, public relations manager for Cellular One. "This product is one more example of the way that wireless technology improves the way we communicate."
Merge also allows customers to use their home phone for calls on their wireless plan. This unique feature allows wireless customers with unlimited nights and weekends or free long distance to take full advantage of their wireless rate plan from any phone in the home.
Wireless customers with unlimited minutes could even eliminate their home phone line entirely by porting their number to their wireless account and using Merge, Davis said.
Merge is available for a one-time purchase price. There are no monthly fees. Currently Cellular One offers Merge units that are compatible for select Motorola cellular phones. Adapters for additional brands will soon be available.