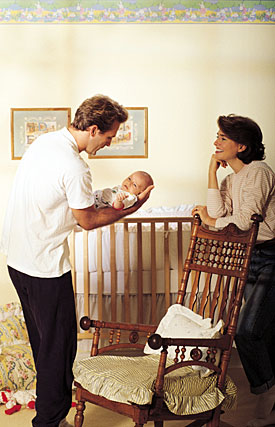 V. Our help is in the name of the Lord.
R. Who has made heaven and earth.
V. The Lord be with you.
R. And with your spirit.
Let us pray.
Bless this bedroom, Lord, so that all who live in it may remain firm in Your peace and persevere in Your will. May they live a long life and have children for many days to come, and finally arrive at the kingdom of heaven through Christ our Lord.
R. Amen.
(And it is sprinkled with holy water.)
Catholic Household Blessings and Prayers - Since the Second Vatican Council, a liturgical renewal has taken root and blossomed in the Catholic Church. The heart of this renewal is prayer. Prayer happens not only in the Sunday liturgy, but also in the households -- the "little churches" -- of the faithful. With this in mind, and building on the publication of A Book of Blessings by the Congregation for Divine Worship, the Catholic bishops of the United States issued this collection of blessings and prayers as an expression of a way of life, a way of daily justice, a way of service and of care, rooted in the Christian family and Christian prayer. This book contains prayers and blessings which have marked the days and nights, births and deaths of scores of generations. It is offered by the Catholic bishops of the United States so that all the baptized -- whatever else their involvement as church members -- may have access to their heritage, may come to know the prayers that are both their duty and their privilege. To all Catholics, the bishops say: "Take time with these pages. Come to know the strength of the texts they hold. Find those prayers and rites which can be celebrated in your life and in your home. Wear this book out with use until you know much of it by heart. Let us bless the Lord!"