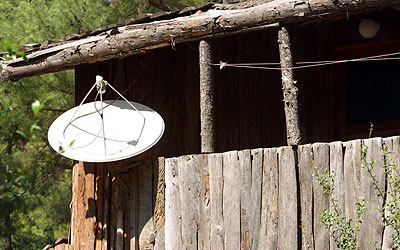 Tachyon, provider of carrier grade broadband satellite services for large enterprises and government agencies, is announced the provisioning of high-speed Internet access, 24 hours per day, seven days per week, for U.S. soldiers on the frontlines in Iraq.
Leveraging Tachyon's Quick Deploy transportable broadband satellite units, the 11th Aviation Regiment of the U.S. Army 5th Corps. has set up an Internet center that is used by more than 250 soldiers and sends and receives more than two gigabytes of data per day. In addition, the 11th Aviation Regiment leverages Tachyon broadband Internet access for many other computers in the Iraqi military theatre.
"We were the first unit in Iraq to have an Internet cafe and it has been up and running since April," said Master Sergeant Kelly Grafton. "It has been a major morale booster in many ways. A son of one of my soldiers was having surgery and he was able to have an instant means of communicating home to receive up-to-date status reports. Meanwhile, others are even able to shop online for CDs and DVDs."
Currently, the Army is using Tachyon for Morale, Welfare and Recreation (MWR) purposes. However, Grafton said the Army plans to utilize the Tachyon network to provide satellite phone access for the Army's commanders, and for other non-tactical purposes, using Voice over Internet Protocol.
"When it comes to the military in Iraq, all services are mission critical whether they are related directly or indirectly to combat success," said Mark Gercenstein, president and CEO of Tachyon. "We are honored to provide high- speed broadband access to our brave troops knowing that it helps make their deployment a little more hospitable and brings them a piece of home while serving in Iraq."
Tachyon enables primary broadband access and business continuity, providing total network redundancy and ensuring that events such as natural disasters and landline outages do not hinder data communications or reduce productivity. Tachyon customers are utilizing the company's patented, innovative network featuring terrestrial-like broadband speed, performance and security, QoS guarantees and full TCP/IP open standards compliance to quickly implement fixed and transportable solutions for primary and backup broadband connectivity.
Tachyon's satellite coverage includes North America, Central America, Europe and parts of the Middle East and Africa, with customers spanning the government, energy, manufacturing, financial services, transportation, healthcare, construction, hospitality, education markets and others.
The broadband satellite network of Tachyon is the first to replicate the look and feel of terrestrial networks through patented TCP/IP compatible signal processing and protocol software, encrypted traffic accelerators and quality of service (QoS) technologies, enabling high speed, reliable transmission and service level agreements (SLAs).