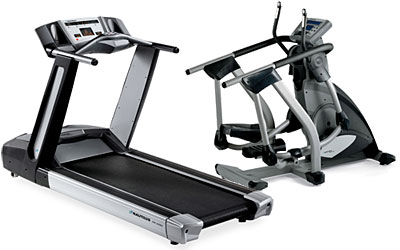 An innovative new lineup of Pro Series cardiovascular equipment bearing the Nautilus brand provides people with access to commercial quality innovations for their home or business. The line includes a unique capability in elliptical cardio machines that allow users to vary their stride length and speed naturally without having to make adjustments. It also includes a new line of durable treadmills that include personalized electronic packages and offer wider, more comfortable running platforms.
"The new Pro Series is part of the company's overall growth initiative to offer a complete line of innovative, high-quality fitness equipment wherever people shop," said Tim Hawkins of Nautilus. "The Pro Series line is designed exclusively for people who seek commercial quality equipment through specialty fitness retailers. This important business channel accounts for ten to fifteen percent of our company's net sales.
"The Nautilus brand gained widespread exposure through innovations in strength equipment, which represents about one-third of the home fitness equipment category. Our StairMaster and Schwinn Fitness product lines have given us the experience to elevate performance and quality in cardiovascular equipment to a new standard. We also took the important step of involving customers and fitness experts in every step of product development to assure our products are best-in-class."
"We're so excited to have this new elliptical on the floor and see how customers respond. We're redesigning the stores to accommodate them," said Jeanne Sheriff of Healthstyles Exercise Equipment. "It really is the first major breakthrough in ellipticals since they came on the market 11 years ago. The variable stride feature and electronics make Nautilus ellipticals much more versatile for people of all sizes and fitness levels and practical for more people, even runners. People can vary their stride and speed to work different muscle groups and derive greater benefit from this one machine."
"I have followed this product since the prototype stages. It obsoletes every elliptical on the market. It's sturdy and smooth, and causes you to improve your workout because you can vary your stride," said Joe Gulino of Total Fitness.
Gulino said, "These treadmills are hands-down the best in the industry. One customer who builds houses said the platform was as solid as a home foundation. The wider platform makes it easier to walk or run, and the steel end-caps are so strong you can stand on them. Another customer already completed the simulated marathon feature. The My Nautilus feature where people can store and retrieve their personal information is very handy, and the display and readout are excellent."
The Nautilus Pro Series treadmills and elliptical cardio products are making their official debut at more than 250 specialty fitness stores carrying Nautilus branded fitness products.
Nautilus Pro Series Ellipticals include two models with My Stride technology that automatically adjusts from 0- to 32-inches to fit all users regardless of height and up to 350 pounds. Both models include a V-Force Plus resistance system, offering completely frictionless, smooth performance with virtually no parts to wear or break and My Nautilus personal workout diary to track every step of every workout to help achieve health and fitness goals.
Nautilus Pro Series Treadmills include three commercial quality models with REACT Absorption Control Technology, one of the most advanced cushioning systems, and running surfaces that are among the longest and widest running surfaces available, with steel frames supporting people up to 400 pounds. The treadmills include a SuperSoft orthopedic walking belt and a platform that is gentle on the user's body. Two include a My Nautilus personal workout diary capable of tracking and storing information for five individuals.
Nautilus manufactures and markets a complete line of innovative health and fitness products.