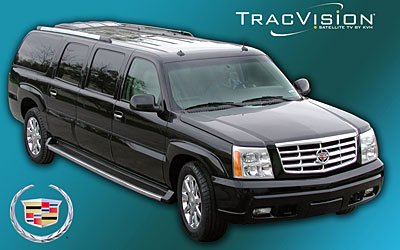 The stretch luxury Cadillac Escalade SUV features a prototype of KVH's embedded TracVision satellite television antenna system. The in-motion tracking system delivers live satellite TV programming to automobiles traveling on open roads across the United States.
"The embedded KVH TracVision will allow us to offer satellite TV function in a sleek configuration that rises only a few inches above the roofline. We think this integrated design will be pleasing to our customers," said Jim Taylor of Cadillac. "This version of the TracVision antenna blends well with the design of our vehicles."
The embedded system is a variant of KVH's earlier roof-mounted system that sits on either a roof rack or is mounted directly to the roof of the automobile. The new prototype system is embedded into the roof of the vehicle, creating a sleek profile. The embedded track vision incorporates improved motor and bearing technology to make the system even quieter than previous models. The embedded system will offer over 125 channels of live, digital-quality DIRECTV television programming and CD-quality music.
"The new stretch Cadillac Escalade is the first vehicle to be equipped with our next-generation TracVision system," said Robert Riedford of KVH. "We are pleased that Cadillac has given us this opportunity to showcase our embedded TracVision system in such a spectacular limousine platform. We continue to work with General Motors and other automakers to create near-term sales of TracVision A5 through their dealer networks and are optimistic about the use of next-generation embedded TracVision satellite TV systems in future OEM vehicles."