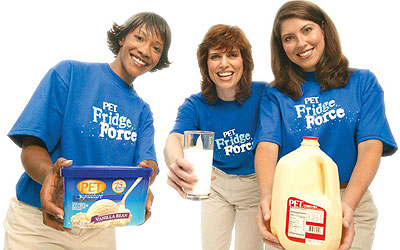 Concerned over the dramatic rise in broken bones in children, Land-O-Sun Dairies, which produces milk and ice cream, hopes to reverse this trend with a new team of calcium nutrition crusaders called the Fridge Force.
A recent Mayo Clinic study found the rate of broken bones has climbed by 56% in girls and 32% in boys since 1970. The cause? Less than adequate levels of calcium, linked to the move away from milk over the past two decades as a meal-time beverage.
The team of women with young children living in the home are concerned about the consequences of calcium-deficient diets, and they have supplied themselves with information to help people understand the benefits of drinking milk and consuming other dairy products.
"Sodas, juice boxes and sugary mix-and-stir drinks are maneuvering themselves into pantries, refrigerators and lunch boxes across America," says Sarah Patton, director of marketing for Land-O-Sun Dairies, "and they are depleting kids of valuable calcium and other nutrients found in milk and dairy."
Teams in Charlotte, North Carolina, and Richmond, Virginia, are being deployed into supermarkets, schools, family festivals, and other places that parents and children frequent. Team members are trained by Land-O-Sun Dairies to communicate the attributes of milk and ice cream with consumers while they sample the products. They also distribute coupons and brochures that promote the benefits of drinking 24 ounces of milk in 24 hours.
Land-O-Sun Dairies supplies milk and ice cream throughout the Eastern United States.