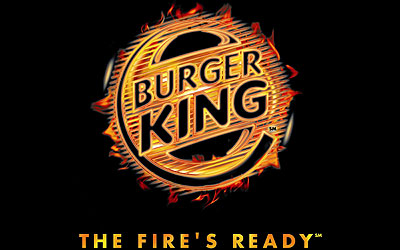 Blues Legend BB King to feature in new Burger King Ad Campaign
December 21, 2001 - Burger King Corporation Introduces the New Hickory Bacon Cheddar Burger; New Limited Time Offer Combines Crispy Bacon, Smoked Cheddar Cheese and Creamy BBQ Sauce
Burger King restaurants nationwide are rolling out the new delicious Hickory Bacon Cheddar Burger to its menu, now through January 13, 2002. This limited time only sandwich is available in a size right for every appetite, with a choice of one, two, or three 2.2oz. flame-broiled hamburger patties topped with 3/8 oz. BBQ sauce, onions, three half slices of crispy bacon, and two slices of smoked cheddar cheese, all on a sesame seed bun.
"The new Hickory Bacon Cheddar Burger combines the flavor of smoked cheddar cheese, bacon and a BBQ sauce for a real backyard barbecue flavor," said Dana Frydman, vice president, product marketing for Burger King Corporation. "This great tasting burger combines consumers' two favorite toppings -- cheese and bacon -- with a distinct new taste."
Burger King Corporation Teams Up with the Harlem Globetrotters
To launch the special sandwich, Burger King Corporation has joined with the Harlem Globetrotters for an all-star promotion in which one lucky winner will receive a five-night trip to Atlanta for four. The winner will suit up with the Harlem Globetrotters team for a live on-court "performance" during the NABC Roundball Challenge on March 29, 2002. Second-tier prizes include Harlem Globetrotters' gear, including leather jackets, jerseys, basketballs and hats.
Additionally, the Harlem Globetrotters have pledged to donate $1 dollar for every mile their tour buses travel this season to the American Red Cross Liberty Disaster Relief Fund. Burger King Corporation will match this with an in-kind contribution.
The Globetrotters' 45-foot buses will travel across country this season wrapped in the team's signature red, white and blue colors, depicting the American Flag, the BURGER KING logo and details of the team's contributions to the American Red Cross Liberty Disaster Relief Fund.
Founded in 1926, the Harlem Globetrotters have played before more than 120 million fans in 115 countries and are known as America's "Ambassadors of Goodwill." The Globetrotters 200-plus-game U.S. tour, starting with their college series in November, runs through April.
Burger King Corporation and its franchisees operate more than 11,370 restaurants in all 50 states and 58 countries and international territories around the world, with more than 92% of Burger King restaurants owned and operated by independent franchisees. Since the company's founding in Miami in 1954, the Burger King brand has become recognized for great flame-broiled taste and Have it Your Way food customization. In fiscal year 2001, the Burger King system had system-wide sales of $11.2 billion. Burger King Corporation is a part of Diageo, the international food and drinks company.