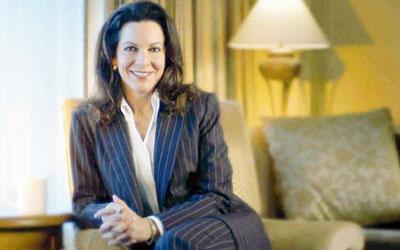 In less than three years at the head of IHOP, president and CEO Julia Stewart has made her mark in every aspect of the business from operations and menu development to technology and marketing. In a ceremony held at downtown Los Angeles' Millennium Biltmore Hotel on Saturday, August 28, she was named Restaurateur of the Year by the California Restaurant Association (CRA), the largest non-profit restaurant trade association in the nation, for her passionate and visionary strategies designed to re-energize the IHOP brand.
"This prestigious award recognizes individuals who have distinguished themselves through innovative restaurant concepts while demonstrating public service commitment," said Jot Condie, president and CEO, CRA. "Julia Stewart embodies these qualities. Throughout her career she has made significant achievements, and her work at IHOP is being noted throughout the industry."
Stewart, a 33-year veteran of the food service industry, was nominated and selected for the award by the California Restaurant Association's 55-member board of directors, comprised of some of the most influential members of the restaurant and food industries.
Since joining IHOP in December 2001, Stewart has built a strong rapport with franchisees, expanded relationships with vendor partners and infused a new culture into the Restaurant Support Center (IHOP Headquarters) and regional offices. Affectionately known as the Velvet Hammer by the company's franchise network, Stewart has worked to ensure IHOP restaurants perform at the highest standards to ensure that restaurant guests leave happy.
In 2003, Stewart transformed the company's business model, deciding to rely exclusively on franchisee-financed development and to proactively seek multi-unit franchisees in key growth markets. The driving force behind implementing national television advertising campaigns for the company's limited-time promotions, Stewart's strategy paid off by sparking new interest in IHOP amongst both loyal and lapsed guests.
"I am truly honored to accept this award, but this is not a personal award," said Stewart. "It is a reflection of the hard work and dedication of the employees, franchisees and vendor partners which make up the IHOP team."
Next on Stewart's agenda is bringing a new, warm, comfortable look and feel to IHOP restaurants nationwide. Starting in 2004 and continuing over a five-year period, every IHOP restaurant will be remodeled to further differentiate IHOP from the competition and encourage dining at lunch and dinner. In addition, the company recently broke ground in Cincinnati, a previously untapped market for IHOP, where new prototype restaurants will test marketing and operations initiatives.
In addition to her leadership role at IHOP, Stewart has demonstrated an ongoing public-service commitment through educational and community activities, a key qualification for the Restaurateur of the Year award. She has served on, or currently serves on, the board of many organizations, including the California Restaurant Association, Avery Dennison, Town Hall Los Angeles, Women's Franchise and Distribution Forum and the Elliot Leadership Institute at Johnson & Wales University, and is a member of the Board of Visitors at the UCLA Anderson School of Management.
Past recipients of this award include Buca di Beppo (2003), Outback Steakhouse (2002), Cohn Restaurant Group (2001), Kimpton Group (2000) and Claim Jumper (1999). Stewart shares this year's award with celebrity chefs/restaurateurs/media icons Susan Feniger and Mary Sue Milikin of television's Too Hot Tamales fame.