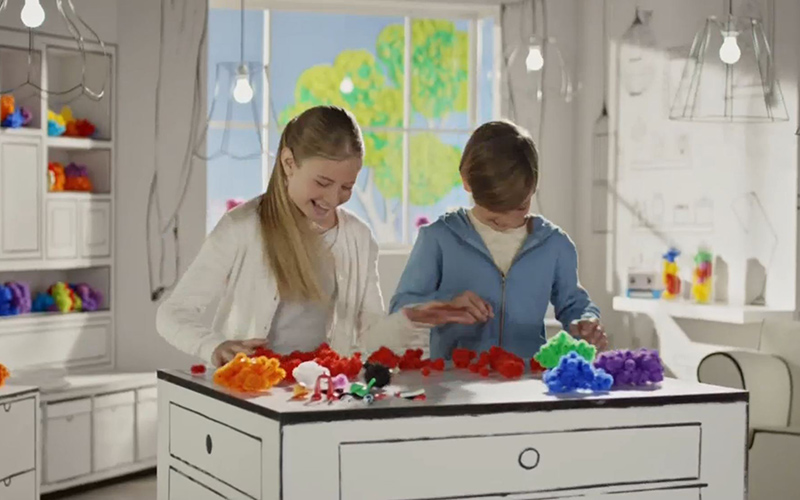 Bunchems Creativity Pack. Squish-connected play. You can bunch anything. With big Bunchems, you can create whacky and wonderful anythings.
Squish, connect and create with Bunchems. They stick to each other and build like no other. They stick and stay and pull apart for endless play.
Build with two different sizes of Bunchems. Includes over 350 pieces – eight colors of Bunchems (three Big Bunchems in every color.) and 30 accessories. Use the included Guide Book to create bigger creations.
Your imagination will run wild with Bunchems. Clean up is a breeze; they stick to each other with magical ease.
The Bunchems Creativity Pack is for ages 4 and up.
Includes: 328 Bunchems, 24 Big Bunchems, 30 Accessories, 1 Guide Book
Bunchems Creativity Pack Featuring Big Bunchems - Bunch up all new creations with the Bunchems Creativity Pack. Now you can build with even more dimension and color. This set includes over 350 pieces and even contains BIG Bunchems, along with 30 accessories. Squish, connect and create anything your imagination desires.
No Fuss, No Mess - Bunchems is a hands-on activity kids can get creative with. Easily attachable and detachable, kids can make as many crazy creations as they can think of. When it's time to clean up, Bunchems are easy to gather together and put away – no stickiness, griminess or messiness to worry about.
Build with the Handy Guidebook - This set comes with a guidebook that teaches kids how to build with Bunchems and Big Bunchems' The guidebook shows kids how to create a cute unicorn, friendly owl, adorable puppy and more' Once kids master the creations in the guidebook, they can follow their own imaginations.
Encourages Imaginative Play - These colorful Bunchems give kids the creative power to bring imaginary characters, objects and structures to life. Easy to build with, kids have the power to explore the bounds of their own creativity. Create and re-create with this interactive and colourful building toy.
Develops Spatial Awareness - Putting together Bunchems requires kids to use fine motor skills and develop an understanding of spatial awareness. As they build using Bunchems, children will learn how objects relate to each other, and develop the ability to absorb and understand information from their environment.