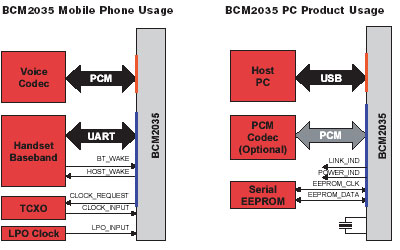 Motorola has selected Broadcom Blutonium single-chip Bluetooth transceiver solutions for several of its mobile phone products. Bluetooth integration will enable new and exciting applications, including the ability to wirelessly connect to headsets, notebook PCs, PDAs and other devices. Users of camera-equipped phones can also print or download pictures wirelessly. Broadcom's single-chip Bluetooth solutions have been shipping in Motorola phones since early 2003.
Motorola's new models incorporate various Broadcom Blutonium chips, including the BCM2035 and the BCM2033 high performance Bluetooth transceivers. Each of these single-chip solutions integrates both RF circuitry and digital baseband processing functions into a single all-CMOS integrated circuit, providing significant cost and power advantages over competing solutions. Broadcom's Blutonium solutions enable Bluetooth wireless connectivity in several new and recently introduced Motorola phones, including the V500, V600, A760, A830 and A835.
"Integration of Bluetooth in mobile phones is growing fast and Motorola's adoption of the technology is clearly helping to accelerate this trend," said Scott Bibaud, Director of Marketing for Broadcom's Bluetooth products. "Motorola's selection of Broadcom as a Bluetooth technology partner is an excellent endorsement of our technical advantages and manufacturing quality. With world-leading radio performance, low power consumption, and the flexibility to be customized to our partners' requirements, Broadcom's single-chip Bluetooth solutions are the perfect fit for highly-portable applications."
One of the first of Motorola's handsets using Broadcom's single-chip Bluetooth transceivers is the V600 multimode phone. This feature-rich GSM/GPRS/UMTS phone incorporates an MP3 player, digital camera and Bluetooth, among other features, to satisfy the connectivity and portable entertainment needs of the most demanding end users. The Motorola phones that feature Bluetooth technology include the V500, V600, A760, A830 and A835.
Broadcom's Bluetooth transceivers have been engineered specifically for the needs of highly portable devices like mobile phones. The radio performance and operation of these transceivers have been tailored to avoid cellular interference. In addition, through system integration Broadcom has achieved an industry leading footprint size, and has optimized the power consumption of these transceivers. Broadcom's single-chip solutions have also been designed to meet the aggressive price targets required by mobile phone OEMs.
Broadcom's Bluetooth solutions feature adaptable circuits that allow them to achieve strong performance even in highly challenging environments, such as inside mobile phones and laptop computers. In addition, the unique design of these chips allows them to maintain high performance even across the wide temperature ranges experienced by mobile phones.
Broadcom provides highly integrated silicon solutions that enable broadband communications and networking of voice, video and data services.