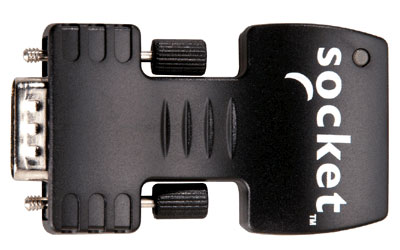 Socket Communications today announced volume shipping of its Cordless Serial Adapter with Bluetooth Wireless Technology. Users can create a cable-free connection by attaching a Cordless Serial Adapter (CSA) to the serial port of any industrial equipment with an RS-232 port and wirelessly download information to a Bluetooth enabled mobile device. Two Cordless Serial Adapters can be used together to replace a conventional RS-232 serial data cable. This small adapter augments Socket's industry leading position in offering plug-in serial adapters for notebooks, laptops, and PDAs.
The Cordless Serial Adapter has a 9 pin male DB-9 DTE connector, uses an internal antenna and is a Class 2, Bluetooth 1.1 compliant device. The CSA supports the Bluetooth General Access Protocol, Service Discovery Protocol, and Serial Port Profile. An LED provides instant information on Bluetooth link status.
Included in the package with the CSA is the Cordless Serial Adapter Configuration Utility which works with Windows 95, 98, Me, 2000 and XP and allows custom configuration of settings such as baud rate, flow control, serial port parameters, discoverable mode, connectable mode and security. Socket also provides a complete command set to allow more extensive reconfiguration via a terminal device. Additionally, the CSA package includes a universal AC power adapter with US, Australian and European plug converters and a 9-pin female/female null modem connector.