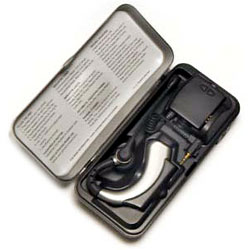 Unleash is a hands free headset from Reason Products that's truly wireless -- no cords, no wall chargers or car chargers -- just the freedom to move, talk, and be yourself. Unleash is a comfortable and easy-to-use headset, that gives users crystal clear sound, a secure connection and long-lasting power. Best of all, there's no special programming required.
The new Unleash wireless headset lets users roam up to 6 feet from their phone-that's twice as far as conventional hands free headsets that connect to the phone with wires. Plus, Unleash works with every phone. No special programming is required, and the phone doesn't need to be enabled with expensive Bluetooth technology.
Unleash has a battery-powered charging case that provides long-lasting, portable power and makes it easy to get started. Users simply charge the headset and base unit in the case, plug the base unit into the phone, and go. No plugs, wires, or adapters needed. And, each charge provides up to 4 hours of talk-time and 7 days of stand-by time. Plus, the charging case is battery- operated, so it's truly portable.
Unleash provides an added measure of safety when driving, and allows the user to work and move freely. Because Unleash uses non-RF technology, it's virtually free of SAR and RF emissions, making it safe to use over long periods of time.
Unleash is one of the smallest, lightest, and most comfortable headsets available. The boom microphone delivers clear sound and the over the ear headset is the most comfortable and lightweight around. Bluetooth alternative Unleash features:
Flash function on the headset
Volume control
Auto stand-by mode
An audible low-battery indicator