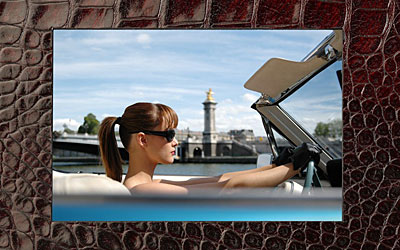 Parrot's new, larger format Bluetooth-enabled digital photo frame holds more than five hundred images and has a seven-inch active-matrix TFT screen for bright, crisp photo images.
The Photo Viewer 7 is so named because the screen measures seven inches diagonally and will store more than 500 JPEG files and display them in slide show or freeze-frame mode. Photos can be transferred quickly and easily from a Bluetooth-enabled cell phone, digital camera, laptop other storage device.
With the Parrot digital picture frame, built-in sensors keep the image upright whether the frame is positioned vertically or horizontally. The viewer also allows for brightness adjustment and shuts off automatically when it's dark. Enjoy your favorite photos with customizable slide shows and an ultra-simple three-button user interface.
The Parrot seven inch digital picture frame will be available in the spring of 2007 for $249.