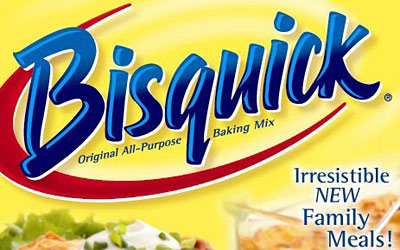 Bisquick has come out with a new look for the first time in more than ten years. This new package is on shelves nationwide and is part of a Bisquick campaign to bring families back to the table with a collection of new, versatile dinner recipes.
The new look features an updated logo and a tempting photo of Salsa Chicken Fiesta, one of Bisquick's new dinner recipes. A regional television advertising campaign launching this month will support the introduction of the new package.
Chef, author, and television host Tyler Florence is working with Bisquick to promote tips and recipes for busy families.
To celebrate the new look and feel of Bisquick, three new recipes have been created by the world-famous Betty Crocker Kitchens, and will be available on product packages. The recipes allow families to use Bisquick to create delicious, homemade meals using ingredients most families have on-hand in the pantry or refrigerator in less than 45 minutes. They include:
Salsa Chicken Fiesta, made with Original Bisquick, boneless, skinless chicken breasts, shredded cheddar cheese and salsa
Ultimate Chicken Fingers, made with Original Bisquick, grated Parmesan cheese, and boneless, skinless chicken breasts
Deluxe Cheeseburger Melt, made with Original Bisquick, cheddar cheese, ground beef, mixed vegetables and cream of mushroom soup
"Bisquick has a long history of offering delicious, homemade recipes that have brought families together for decades," said Tim Bennett, marketing manager, Bisquick. "We hope our new, contemporary packaging and recipes will help reintroduce this American classic to the next generation of families."

Bisquick provides delicious and easy recipe ideas, including pancakes, waffles, biscuits, Easy Chicken Pot Pie, Impossibly Easy Cheeseburger Pie, oven-baked chicken, strawberry shortcakes and dumplings. Recipes can be found in the new Bisquick Impossibly Easy Pies cookbook. A collection of 125 pies cover dinner and dessert.