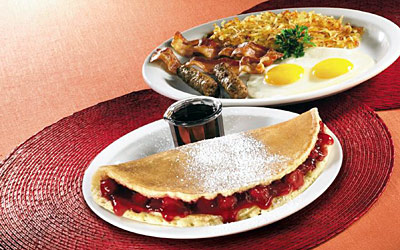 Denny's unveiled its newest value breakfast entree, Fabulous Fruit-Filled Pancakes. The oversized buttermilk pancake is loaded with cherry, blueberry, or cinnamon-apple filling and sprinkled with powdered sugar. The pancake is part of a hearty breakfast entree that includes two eggs, two crispy strips of bacon, two savory sausage links, and hash browns, all for only $4.99. The new breakfast offer is available at Denny's restaurants nationwide for a limited time only.
"Our fruit-filled pancakes give guests a wonderful seasonal breakfast offering with three flavorful filling choices," said Margaret Jenkins of Denny's. "Because Denny's restaurants are always open, guests have the opportunity to enjoy these new breakfasts throughout the holiday season."
The new are available 24 hours a day, seven days a week, as is Denny's breakfast menu. Other menu offerings featured throughout the winter months are seasonal pies in pumpkin and pecan in addition to French vanilla and English toffee flavored Cappuccino's.