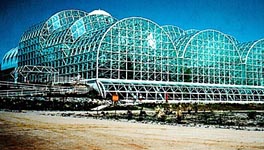 The Bert W. Martin Foundation has awarded $800,000 to Columbia University's Biosphere 2 Center in Oracle, Arizona, to support college undergraduates interested in attending Biosphere 2 Center's Earth Semester program.
Biosphere 2 President and Executive Director Barry Osmond said, "The Martin gift is the cornerstone for building a significant endowment to fund sponsorship programs. We are thrilled to begin a process that will allow us to continue to attract promising students to our unique educational community."
"The Foundation considers this gift in support of programs at Biosphere 2 Center a continuation of Bert Martin's vision of environmental commitment," said Martin Foundation chairperson Wynee Warden. "We are pleased that we are able to support students, so they can have the opportunity to be enriched by the programs offered at Biosphere 2."
Launched in the fall of 1996, Earth Semester is a series of studies in earth systems and policy designed to foster an understanding of critical global issues. Moreover, the program helps students understand the connections among the physical, biological and social components of the environment. Since its inception, more than 1,000 undergraduate students have completed a semester or summer program in Biosphere 2 Center's unique education environment.
Charles Wood, director of education at Biosphere 2, said the program also brings together faculty members with expertise not just in "hard" sciences like biology or geology, but also in the social sciences which teach about human, cultural and political issues.
"One of our goals is to study issues impacting the health of our planet from different perspectives, simultaneously, and explore mechanisms for knitting perspectives together in a curriculum," Wood said.
In addition to this gift, the Bert W. Martin Foundation supports Biosphere 2 Center's science education program for younger students. Called Passport to Learning, the program introduces basic earth science and technology topics to thousands of elementary and middle school children from Arizona and elsewhere. Gifts from the Foundation totaling $35,000 have made possible a significant expansion of the Passport program. The Foundation dedicates a portion of the gift to allow 1,000 Pinal County school children to participate every year.
The Martin Foundation is named for Chicago industrialist and philanthropist Bert W. Martin, who was an early advocate of sustainable forestry practices. Martin was also responsible for implementing reforestation programs to support his lumbering and printing interests, being the first to print multicolor on film. Headquartered in Orlando, Fl., the Bert W. Martin Foundation has been a generous supporter of pediatric health care, the Arnold Palmer Hospital for Children and Women and a variety of educational programs and initiatives.
Biosphere 2 Center is Columbia University's 250-acre western campus devoted to deepening the understanding of earth systems vital to the policies and decisions that will affect Earth's future. Equipped with a 3.1 acre, glass-enclosed research laboratory, and offering academic programs in earth systems for high school, undergraduate and graduate students as well as educational programs for 180,000 annual visitors and local school children, Biosphere 2 continues its mission to foster informed leadership and intelligent stewardship of the planet.
Biosphere 2, the fascinating atmosphere glass-enclosed mesocosm in the Arizona desert, explores the bounds and frontiers of the new field of ecological engineering. This project set out to construct ecosystems or biomes, not monocultures, in a heavily subsidized environment, save for the sun, 50% of which did penetrate the glass, and the soil that was trucked in. Pumps were needed for the hydrologic cycle, blowers for atmospheric movement, and even a 'lung' to relieve the pressure that builds up in the glass enclosed system. More than 10 MW of electrical power generating capacity stands nearby. Ecosystems did flourish in the various biomes, never turning out exactly as they had been planned, but always giving information that provides insight on their true analogs in nature.