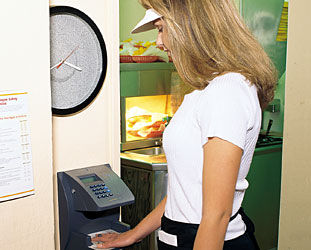 IR Recognition Systems, the biometric component of Ingersoll-Rand's (IR) Security & Safety Group's Electronic Access Control Division (EACD), today announced that Ohio-based Graeter's Ice Cream is using its HandPunch biometric terminal to track the time and attendance of 60 employees at its Cincinnati manufacturing plant.
"We don't have a manager on the night shift and we had too much buddy punching going on," says Richard Graeter, Executive Vice President of Graeter's Ice Cream. "The HandPunch keeps a clear and irrefutable record of everyone who was there. I can view all the records on a computer that's hardwired to the HandPunch terminal."
The HandPunch terminal eliminates expenses associated with employee badges and fraud caused by buddy punching. Instead of filling out or punching timecards, employees simply place their hands on the HandPunch. It automatically takes a three-dimensional reading of the size and shape of the employee's hand and verifies the user's identity in less than one second. Hand geometry technology is the most commonly used technology for time and attendance and access control, according to Frost and Sullivan's "World Biometrics Report 2002."
"The HandPunch system has reduced the time it takes to prepare hourly payroll from several hours to less than one hour," Graeter reports. "In the three or four years that I have been using the HandPunch, I have not had any problems."
At the Graeter's Ice Cream plant, all hourly employees clock in and out at the beginning and end of each workday. They also clock in and out for all breaks, including lunch and shorter breaks. Some employees can clock in and out as many as eight times a day. Employees did not resist the HandPunch terminal. Graeter explained that the readers simply measured their hands to identify them and no information was being passed on to anyone outside of payroll.
Graeter uses time and attendance software supplied by ADP (Automated Data Processing) to collect and process information from the HandPunch readers. He reviews employee hours once a week and prints out a summary report, which is sent to supervisors for review, alerting them of any attendance or scheduling issues much faster than they were under the old system. Once employee hours are approved, he creates a file that can be sent directly to ADP payroll service, which recommended the HandPunch terminal, for processing employee hours.
The company previously used a standard punch card system with swipe badges and time clocks. The old system gave Graeter all the reporting information he needed but it did not verify that employees were actually working when they claimed to be.
"I believe the HandPunch has paid for itself by allowing employees to punch in and out for breaks," Graeter concludes. "It also compels people to abide by the rules."
With over 75,000 hand geometry units throughout the world reading millions of hands each day, IR Recognition Systems is the pioneer of hand recognition technology used in access control, time and attendance and identification applications.