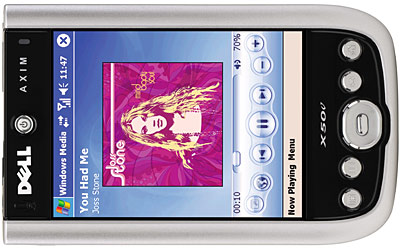 Dell unveiled three new Axim handheld computers that combine the latest PDA technology in a dual-slot design. The Dell Axim X50 and X50v deliver the features and performance necessary to stay connected and productive as well as entertained while on the go.
The Axim X50v features a 3.7-inch VGA screen with four times the resolution of a standard QVGA handheld. It also delivers enhanced productivity, document viewing, web surfing, gaming, photo viewing, and better video playback. The VGA screen is combined with an independent graphics processor to deliver a rich multimedia entertainment experience. The high-performance graphics enable DVD-quality video playback and unprecedented 3-D PDA gaming. When combined with the optional presentation bundle, road warriors can use the Axim X50v's dual-display capability to project presentations.
All Axim X50 models include Bluetooth 1.2 wireless technology and two also feature Wi-Fi 802.11b wireless capability for quick access to the Internet and e-mail. All include a headphone/headset jack for use with optional VoIP and voice-recognition applications.
The Axim X50 family members are the first Pocket PC handhelds to feature Microsoft's Windows Mobile 2003 Second Edition software for Pocket PCs with the new Windows Media Player 10 for Mobile. This allows Axim X50 and X50v customers to load music play lists, movies and even favorite TV shows effortlessly. Users can view or listen whenever they want, be it during their commute or work out at the gym. Windows Media Player 10 for Mobile also features Windows Media Digital Rights Management 10 support.
The Axim X50 family's svelte design includes built-in Compact Flash and Secure Digital I/O slots, recorder capability, a dedicated button to turn wireless on/off and a display lock button. Each Axim X50 comes with a sync/recharge cradle with an extra battery charge slot to charge a spare standard battery (1100 mAh) or the optional high-capacity (2200 mAh) battery.