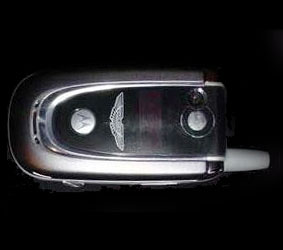 Aston Martin and Motorola have announced an exclusive product alliance that will see the launch in November 2003 of a mobile telephone that combines the very latest digital technology that will appeal to enthusiasts around the world.
Based on Motorola's new flagship V600 mobile handset and headset, both will be available from mid December, complete with the latest communication capabilities.
Motorola V600 Specification Includes:
Bluetooth wireless technology, allowing users to make and receive calls without the complication of wires
Integrated VGA digital camera
Vivid colour display, supporting up to 65,000 colours
Multimedia Messaging (MMS) capabilities, enabling users to send a photo with a personalised voice message
Quad-band GSM technology, giving users the ability to stay in touch worldwide (excluding Japan)
Polyphonic ring tones for a rich sound
J2ME, allowing you to download Java applications and games
PIM function manages an agenda with alarms and contacts and can be synchronised with your PC
WAP browser
The Aston Martin V600 Mobile phone by Motorola will also feature a unique specification, tailored to the exacting standards Aston Martin are renowned for.
Enhanced Aston Martin Features:
Limited edition of only 1,000
Customized front and rear anodised covers, featuring the Aston Martin wing logo
Packaged in an exclusive, individually numbered presentation box made from bamboo and aluminium
Unique screen saver and the sound of an Aston Martin engine as a ring-tone option
Each phone will be issued with a Certificate of Provenance, signed by Dr Bez
The phone and headset will be available to order direct from Aston Martin Parts and Merchandise Operations, through the Aston Martin dealership network or on-line.