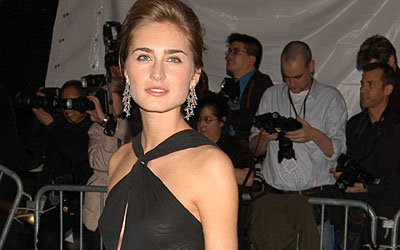 Asprey showcased its brand image as the lead sponsor of this year's Metropolitan Museum of Art exhibition and party of the year for Dangerous Liaisons; Fashion and Furniture of the 18th Century. Asprey lent its heritage to the Costume Institute and transformed the Metropolitan Museum of Art into all things Asprey.
Upon arriving guests admired the museum's magnificently illuminated facade, bathed in purple light, Asprey's signature color. And for the first time in the history of the Costume gala, the traditional red carpet was a trail of regal purple. The lavish interior decor included spectacular purple and white flowers and linens as well as Asprey's own Botanical porcelain china and Murano crystal set at each table.
Asprey's Co-Chairmen Lawrence Stroll, Silas Chou and Edgar Bronfman Jr., served as the gala's Dinner Chairs.
Asprey emptied its vaults of vintage and new collections dressing A-list celebrities, VIPs, and New York's elegant social set including: Renee Zellweger; Pharrell Williams; Lauren Bush, Jason Lewis; Patti Hansen; Marina Rust; Claire-Anne Stroll; Clarissa Bronfman; Celia Chou; and Isabelli Fontana.
Those in attendance included Charlize Theron, Jennifer Lopez and Marc Anthony, Scarlett Johannsen, Hillary Swank, Naomi Watts, Mandy Moore, Donald Trump, Ivanka Trump, Diane Von Furstenberg and Barry Diller, Jerry and Jessica Seinfeld, Serena Williams, Benjamin Bratt and Talisa Soto, Julianne Moore, Hugh Jackman.