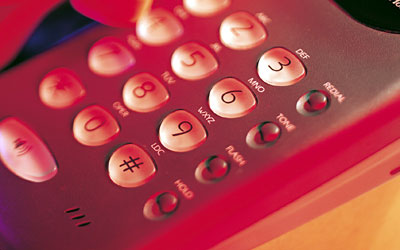 Ameriphone's Easy Recall answering machine incorporates superior amplification technology with the ability to receive TTY messages to be the most versatile answering machine ever. It's the perfect choice for households with users of different hearing needs. The Easy Recall's adjustable playback volume control allows the volume to be increased up to 20 times louder than normal and ensures that every message is heard loud and clear. The adjustable tone control allows the user to set the frequency of the playback message to suit their hearing needs. All messages are recorded using digital technology, which means that there are no tapes or moving parts to wear out. The remote access feature allows the user to pick up calls from anywhere at anytime. The Easy Recall also has a Toll Saver feature that avoids unnecessary long-distance charges when calling to check on messages.
The Easy Recall has a multitude of features that make it indispensable for everyday use. Fast message forwarding and reverse ensure that the user doesn't miss any part of a message. The voice stamp announces the time and day when each message was recorded. Memo recording by speaking directly into the Easy Recall permits leaving a message for others in the home. The delete button allows messages to be erased individually or all at once. Memory backup protects stored messages in case of a power failure (requires a 9V battery, not included). Call message counter shows the number of voice and TTY messages that the Easy Recall has recorded. Remote activation permits messages to be accessed and the ability to turn the Easy Recall on or off from outside the home. Phone pick-up detection stops recording messages when any phone on the same line as the Easy Recall is picked up. It then resets to answer the next call. It has14 minutes of in-coming message recording capacity and when the memory is full, the Easy Recall switches automatically to just playing an announcement. Allows the user to record both sides of a conversation while it is happening (Note: In some areas it is illegal to do this without the consent of both parties. Check local laws).
August 14, 1995 - National Semiconductor Announces Shipment of First Risc-Based Voice Processor to Support Flash Memory; Nsam265 Used in New Digital Answering Machines from Sharp
National Semiconductor today announced volume production of the industry's first RISC-based digital speech processor with a Flash memory interface for voice processing applications. The NSAM265 is the first member of National's CompactSPEECH(tm) family, and is the first product implementation of National's CompactRISC(tm) technology, previously code named Project Piranha. The NSAM265 is targeted initially at digital answering machine applications and is being used in Sharp's new CL-500 and CL-550 cordless phone with answering system. These are the first digital answering machines to use Flash memory.
National's NSAM265 offers the alternative to scarce audio-grade DRAMs (ARAMs) and it provides a direct interface for Flash memory. Current digital answering machines use ARAM which requires a battery backup to keep messages from being lost in the case of a power failure.
With flash memory, the manufacturer can remove the battery system because flash memory will not lose messages in the event of a power loss. Also, by removing the battery supply manufacturers can either add more features or reduce the size of the machine while reducing cost and improving time-to-market.
The NSAM265 supports audio-grade or standard 4Mbit and 8Mbit byte-wide flash devices, which allows up to 15 minutes of recording on a 4Mbit Flash device. The number of messages that can be stored is limited only by memory size.
The CompactSPEECH family is based on a RISC processor, tightly coupled with an integrated DSP function. National is initially embedding the CompactRISC in system level solutions for specific applications. This platform provides a very powerful and highly integrated device for digital answering machine requirements. The small size of CompactRISC technology is also a critical element in providing a cost-effective solution for the market.
The NSAM265 comes preprogrammed with firmware for digital answering machine applications. It also contains system support functions such as a DRAM controller, interrupt controller, codec interface, MICROWIRE interface, WATCHDOG timer and a clock generator for interface to other components.
"The CompactSPEECH family builds on National's history of innovation in digital answering machines, having developed the first unit with AT&T in 1991," said Ozy Wong, worldwide strategic marketing manager at National Semiconductor. "Future family members will support the new serial Flash that National has developed and allow for additional features such as caller ID and speaker phone. This will allow us to supply manufacturers with a complete system solution."
Because the NSAM265 can store vocabularies on flash memory, the CompactSPEECH firmware can synthesize messages in various languages. This allows digital answering machine manufacturers to create devices that can be used worldwide without the need for different components.
The CompactSPEECH firmware also implements voice compression and decompression, tone detection and generation, message storage management, on-chip speech synthesis for time and day stamp and support for user-defined voice prompts in various languages.
Because these features are already programmed into the firmware, the design engineer does not need to go through the process of programming the part. This saves the manufacturer design time and improves time-to-market.