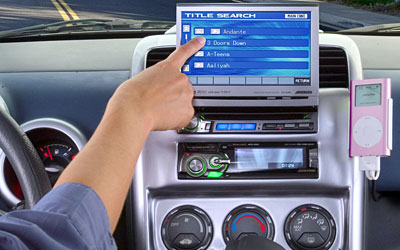 Alpine Electronics will ship in late September the interface adapter that enables consumers to control and enjoy their iPod music library from their in-vehicle sound system. The Alpine iPod Interface Adapter (model KCA-420i) enables users to experience superior sound tuning and control of their iPod music using any of Alpine's 2004 Ai-Net in-dash head units. The KCA-420i will be available from Authorized Alpine dealers for $100.
"Consumer interest in our Interface Adapter for iPod has been phenomenal," said Stephen Witt, Alpine's vice president of Brand Marketing. "There is clearly an eager market of users who want a better sounding and easier to use solution for enjoying their iPod music in the car. This is the in-vehicle solution iPod users have been waiting for."
Alpine's Interface Adapter for iPod enables users to access the in-dash receiver's exclusive Bass Engine technologies to experience better sound quality and control of their digital music files in the car. The solution allows users to control iPod playback using the head unit's front panel buttons or remote; view song information (artist, album and/or song name) on the display; and easily find tracks through the receiver's Quick Search interface. Alpine's exclusive media expander technology restores lost detail to compressed digital media, bringing essence and life back to the music as the artist had originally intended.
The Alpine iPod Interface Adapter is a hide-away design and can be installed anywhere in the vehicle -- under a seat, in the glove box or behind the dash. A single cable connects the adapter to the Alpine head unit, while a second cable connects the adapter to the iPod through the iPod dock connector. When the vehicle is on, the Interface Adapter also charges the iPod's internal battery.
The Alpine iPod Interface Adapter carries a target retail price of $100 and is compatible with any iPod mini or updated iPod with a dock connector. Alpine's 2004 Ai-Net head units, sold separately, are available through authorized dealers at target retail prices starting at $200.
Apple produces the iPod mini and iPod line of portable music players and iTunes online music store. iPod mini is available for a suggested retail price of $249 (US). iPod retails for a suggested price of $299 - $499 (US), depending on model.
Alpine Electronics specializes in an integrated platform concept for mobile multimedia with premium components for digital audio/video media playback, digital broadcast reception, and satellite linked navigation.