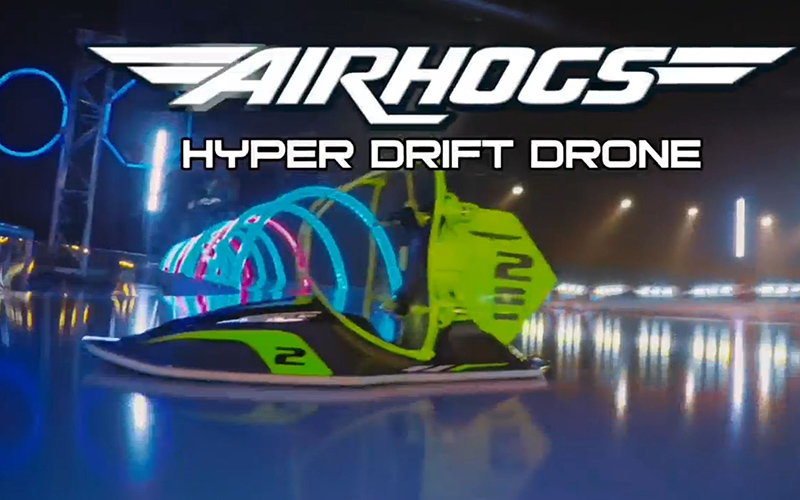 Air Hogs Hyper Drift Drone - Unleash incredible drifts. Crash, and keep racing.
Air Hogs Hyper Drift Drone is a 2-in-1 vehicle: Race along the ground or fly through the sky at super fast speed with the detachable drone. Speed demons head to the race with Air Hogs Hyper Drift Drone. Equipped with a turbo drone power source, it is made for racing at breakneck speeds. The turbo drone is made with a self-righting cage to ensure you land upright and are ready to lift off – even after an epic crash.
Race on Land and in Air with Air Hogs 2-in-1 Hyper Drift Drone - Speed on land and soar through the sky with Air Hogs Hyper Drift Drone. This 2-in-1 RC racer combines a super fast ground racer with a timble detachable drone in one high-speed vehicle.
Lift Off with the Detachable Drone - When you're neck-and-neck in a race to victory, the last thing you want is to crash and burn. With the Hyper Drift Drone, obstacles pose no problem. Crash on land and the drone will pop out then lift off to continue racing through the air. Surprise opponents and reach the finish line first with the Hyper Drift Drone.
Keep Racing with the Self-Righting Cage - Whether you're a first-time flyer or an experienced pilot, this RC drone is engineered to provide you with a smooth racing experience. Flight assist technology with automatic takeoff, height-lock and auto-landing features help this drone take to the air and race with ease.
Use the Stunt Button - Pull of epic mid-air tricks with the stunt button. This feature makes it easy for any driver to try out classic drone stunts, like a 360 degree barrel roll. Powered by the turbo drone engine, the Hyper Drift Drone can pull off stunts even when going at breakneck velocity.
Includes 1 Hyper Drift Drone, 1 Controller, 1 USB charger, 1 Instruction sheet, Spare propellers