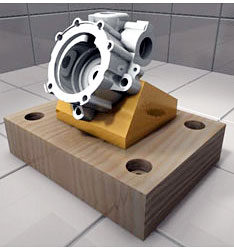 Algor recently added support for the Alibre Design 3-D parametric modeling package. Engineers can use the new Alibre Design Import Extender to open native Alibre Design parts and assemblies in Algor for any type of analysis.
This new software provides capabilities for opening Alibre Design assembly and part geometry in Algor, a midplane mesh engine for converting thin solid features in a model to plate or shell elements and a joint creation utility for quickly adding pin and ball joints to models.
Algor's intuitive finite element analysis (FEA) and Mechanical Event Simulation (MES) solutions for Alibre Design geometry support analyses including static stress with linear and nonlinear material models, linear dynamics, steady-state and transient heat transfer, steady and unsteady fluid flow, electrostatic, MEMS (Micro Electro Mechanical Systems) simulation and full multiphysics.
Alibre Design is an affordable, easy-to-use application for mechanical design and collaboration. Designed for Internet connectivity, the software lets engineers, designers and their associates create 3-D models and 2-D associative drawings, share and edit product designs from different CAD applications and spontaneously collaborate on-line in real time using precise design data. The application offers a CAD-neutral environment based on STEP, an open data standard.
'We are pleased to provide Alibre Design users with value-added software for FEA-based analysis and simulation,' said Algor Product Manager Bob Williams. 'Through our partnership with Alibre, we can provide a value-priced solution for both professional 3-D solid modeling and full-featured FEA software to companies of all sizes. The seamless data exchange between our products will enable engineers to shorten time to market and make better, safer products at a lower cost.'
Alibre CEO J. Paul Grayson said, 'We're very proud that Algor has joined with us to offer its FEA solutions to our users. This partnership ensures our users that their Algor analysis and simulation products are compatible with Alibre Design.'
'The partnership between Algor and Alibre makes the process of capturing Alibre Design parts and assemblies for Algor analysis seamless,' said Marc Meadows, a consultant and president of Meadows Analysis & Design in Fort Worth, Texas. 'Algor's direct support for Alibre Design geometry enables me to focus on my analysis work.'
The software is available for PC workstations running Windows NT, Me, 98, 2000 or XP.