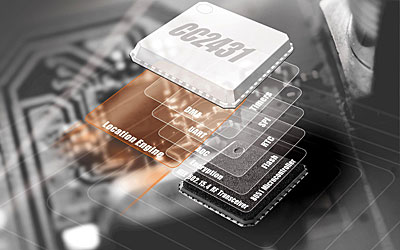 Chipcon's CC2431 system-on-chip IEEE 802.15.4 low power wireless sensor networking solution targets ZigBee solutions. The new SoC solution from Chipcon includes a Motorola location detection hardware core. The solution is based on Chipcon's CC2430 and Motorola's IEEE 802.15.4 standards based radiolocation solution, all in a single silicon die.
The CC2431 includes the industry leading CC2420 IEEE 802.15.4 and ZigBee-compliant RF transceiver core, 128 kByte flash memory, a high performance 8051 microcontroller core, and a radiolocation hardware core. The part comes in a 7x7 mm package, is fully pin to pin compatible with the existing CC2430 SoC and is available with the market leading Z-Stack ZigBee protocol software from Figure 8 Wireless, a Chipcon company. The CC2431 will enable OEMs to seamlessly develop compact, high performance and reliable wireless networking products using the chip as the only active device in the system.
Motorola's radiolocation hardware core enables a CC2431-based network node to determine its own physical position in a IEEE 802.15.4/ZigBee network deployment. The core applies a proprietary algorithm based on maximum likelihood estimation, using information from infrastructure nodes to perform a location estimation. Because the algorithm is executed in a hardware core, the process of location estimation completes in less than 1/10000 second, consumes very little power, and keeps the chip's integrated microcontroller free.
The Chipcon SoC solution along with Motorola's radiolocation feature supports asset tracking, container tracking, security, access, and control systems applications in wireless embedded networks.
"We are pleased to be working with Chipcon to enable such standards-based solutions by offering the world's first System-on-Chip ZigBee/ IEEE 802.15.4 solution with Location Detection Engine," commented Bob O'Dea of Motorola Labs.
Bob Heile, chairman of the ZigBee Alliance comments, "The addition of a location detection core opens significant new opportunities to our members in the exciting and booming wireless sensor network market."
The chip is supported by an integrated development environment consisting of a development kit including two SmartRF04 EB Evaluation Boards, 10 CC2431EM Evaluation Modules, 10 battery boards, antennas, and batteries. The SmartRF04 EB boards are used for programming, debugging, and PC interface for the CC2431EM modules. When used with the battery packs, the CC24231 is loaded with location detection application examples, and can immediately be deployed in networks to test real life networks including radio positioning information.