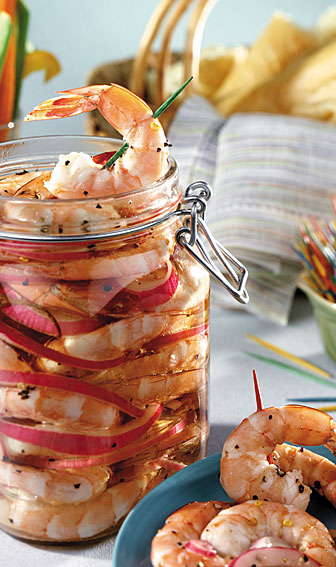 Football season means party time-and nothing is more fun than tailgating with friends for the big game. Make it easy and celebrate in style with Wild Georgia Shrimp, the perfect finger food that's easy to prepare ahead.
"Wild Georgia Shrimp are great for tailgating because they are easy to prepare and take along and are always a crowd favorite," said Loran Smith, host and producer of the Georgia Network's pre-game Tailgate Show for the University of Georgia. Smith is co-author with his wife Myrna of a collection of tailgating recipes and sideline tales.
Smith knows the importance of Wild Georgia Shrimp that's harvested from a natural environment. "Most people probably don't realize they are eating shrimp grown in ponds and imported to this country," he said. "Local, wild-caught shrimp just tastes better."
Wild Georgia Shrimp can be cooked ahead of time or grilled minutes before serving. Low in fat and packed with flavor, protein and cardio-protective omega-3 fatty acids, party-goers will have plenty of energ. Whether as an appetizer or the focus of the meal, Wild Georgia Shrimp is great for tailgating and parties.
Party planners should ask for Wild Georgia Shrimp at their local grocery store or seafood market. The tender, sweet, premium-quality seafood delivered fresh to local docks is guaranteed by the Georgia Shrimp Certification Program to be from coastal Georgia waters, meet quality standards and have been packed and delivered from certified facilities.
A recipe for Savannah Marinated Wild Georgia Shrimp was provided by Cecilia and Sonny Seiler for Smiths' tailgating cookbook.
The ingredients are four pounds peeled, cooked shrimp; one cup vegetable oil; one cup tarragon vinegar; two cloves garlic, crushed; two medium onions sliced; and salt, black pepper, and red pepper to taste. Mix all ingredients and marinate in refrigerator overnight. Travels well in wide-neck thermos. Serve with crackers and toothpicks.
A recipe for Wild Georgia Shrimp Dip was provided by Ricky Boone, a third-generation fisherman and husband of Kim Boone. He has been shrimping for a quarter of a century. For the ingredients, use one pound Wild Georgia Shrimp, peeled and deveined, poached until pink; one eight-ounce package cream cheese, softened; one small onion, chopped; half cup mayonnaise; juice of one lemon; dash Tabasco sauce; dash Worcestershire sauce; salt, freshly ground black pepper to taste; half teaspoon paprika; and one small clove garlic, finely minced. Place the cooked shrimp in a food processor or blender. Pulse repeatedly to obtain a fine puree. Add the rest of the ingredients, process to blend well. Serve on open-faced sandwiches or simply serve with crackers for an appetizer.