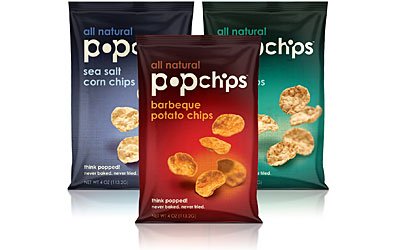 Popping is an alternative to fried or baked chips. Pop chips start with all-natural ingredients like wholesome potatoes, organic white corn, and whole grain brown rice which are heated with pressure and popped. The only thing added to these crunchy treats is a flavorful blend of natural seasonings. Left out is half the fat of fried potato chips and all transfats, saturated fats, and preservatives.
Popchips come in nine flavors including Barbeque Potato, Sea Salt Corn and Wasabi Rice Chips. Other flavors include Original and Parmesan Garlic Potato Chips, Cheddar, Hint of Butter and Salsa Corn Chips, and Sea Salt Rice Chips.
Popchips are an all-natural chip with all of the flavor but only half the fat of fried potato chips.